Fathom is not your typical nature documentary. If you're looking for bucketloads of info on humpback whales, complete with zippy digital graphics, search elsewhere. Drew Xanthopoulos' film is an impressionistic affair: less a deep dive into cetacean biology, more about the experience of being a female field scientist trying to communicate with another species. It's beautiful on the screen, too, with hypnotic images of flukes appearing then submerging, of the shifting colors and moods of the sea.
I'm sure his fans would dispute the comparison – and they can be a nitpicky bunch – but it almost felt like "nature film as directed by Terrence Malick." So I was pleasantly surprised to discover I wasn't off the mark, that the composer of Fathom's score, Hanan Townshend, has also lent music to a handful of Malick features. Here, his mix of minimalism à la Philip Glass and meditative New Age is a perfect complement to Xanthopoulos' images.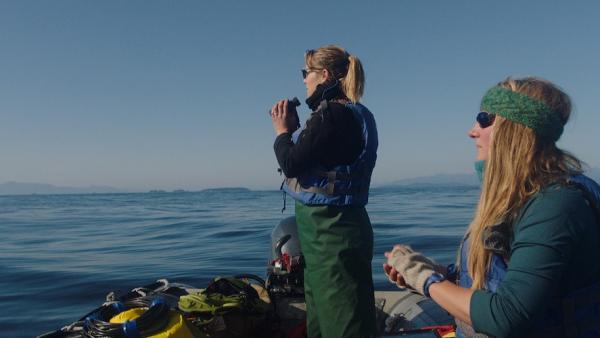 The film jumps between the efforts of two researchers seeking to better understand these majestic beings. Dr. Michelle Fournet, of Cornell, is traveling to the Alaskan peninsula, to test her hypothesis that the distinctive "whup" call is the humpback's means of establishing contact with fellow whales. To investigate, Fournet has crafted a whup recording which she'll be broadcasting into the water, to see if it generates a flurry of responses.
Dr. Ellen Garland, from the University of St. Andrew's in Scotland, is heading to French Polynesia, to trace the origin of whale songs. You see, humpback song is picked up by various pods, modified and carried hundreds of miles, always from west to east. Garland wants to find where these songs begin.
Gene Siskel used to say one of his favorite film genres was the sort showing us people at work, and Fathom does this in exemplary fashion. We observe Fournet, Garland, and their teams crunching the data, tracking whales, deploying technology, coping with setbacks, and decompressing during down time.
From snippets of conversation, we learn about the distinctive struggles of being women in STEM fields. After an exhausting day rocked by waves and straining to hear whale song, Garland remarks that admitting fatigue to male colleagues leaves you dangerously vulnerable. Fournet talks of wanting to have children, but lacking female role models who've balanced childrearing with field research.
Fathom is hardly preachy, but one takes away a deeper appreciation for the sentient giants being studied. Their cultures predate the appearance of Homo sapiens by millions of years, their language incredibly sophisticated, their empathic brain regions more developed than ours. If these realizations don't prompt us to share our planet equitably, we're just not listening.

Against the Current shows us a different kind of barrier-breaking. Veiga Gréttarsdóttir is a trans woman from a small fishing town in Iceland, striving to complete an athletic feat never done by woman or man. To expand her own capabilities, and to promote trans and suicide prevention awareness, she intends to kayak the perimeter of her country in a counterclockwise direction.
Circling Iceland clockwise, and therefore with the current, was only accomplished for the first time in 2013, by one of Gréttarsdóttir's male friends. And these undertakings aren't risk-free, as kayaking fatalities in Iceland are not terribly unusual, due to storms, fog banks, and outflowing river currents.
Director and cinematographer Oskar Pall Sveinsson effectively depicts Gréttarsdóttir's progress. Sveinsson discerningly mixes shots from overhead drones, alongside paddling, and cameras on the front of Gréttarsdóttir's kayak (facing forward and back). This allows us to see the stress of an effort whose physical and caloric demands are compared to climbing K2 or Everest. The scenery is unfailingly gorgeous but taxing: massive sea cliffs, volcanic sands that offer no shelter, a 100 km stretch across open water.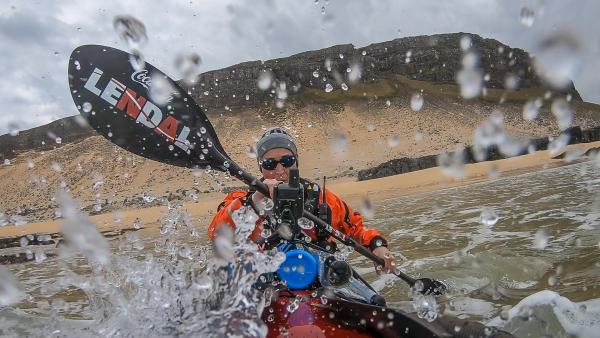 Interspersed with the athletic travails is the story of Gréttarsdóttir's gender transition, from the perspectives of her parents, ex-wife, lifelong best friend, a supportive trans friend, her psychiatrist, and Gréttarsdóttir herself. Some may find the narrative metaphors a bit forced – the film title for her transition, a despairing section of her journey for her suicidal gender dysphoria – but they worked for me.
It's also refreshing to have a subject who's stylish but unglamorous. Don't get me wrong, I'm grateful for Laverne Cox's advocacy, but not everyone can be that effervescent and photogenic. By contrast, Gréttarsdóttir is emotionally reserved yet admirably frank, in discussing her youthful flight into hypermasculinity, her intense shame over her secretive cross-dressing, her pre-transition marital strife, and even the need to wear adult diapers on her kayaking odyssey.
It takes a variety of voices to raise trans awareness and erase stigma, whether a Hollywood actress, American high schoolers, a French family, or a kayaker from Iceland in her 40s. I'm indebted to Gréttarsdóttir for her courage, on the water and in front of a camera.
(Fathom is available on Apple TV+; Against the Current is now playing in theaters.)
(Image credit for star rating: Yasir72.multan CC BY-SA 3.0 )