If the name Pauli Murray doesn't ring any bells, don't feel too bad. In checking the two books by Ibram X. Kendi on my shelf, Murray is mentioned in a grand total of one sentence – and Kendi impresses me as not only anti-racist but pro-feminist.
Julie Cohen and Betsy West, co-directors of the immensely popular RBG, seek to redress this knowledge gap in their second film together, My Name Is Pauli Murray. Prepare to have your mind blown, because Murray (1910-1985) played the John the Baptist role many times in the major rights movements of the 20th and 21st Centuries.
To name but a few: they were queer and nonbinary before those terms were part of our cultural parlance. They were arrested for refusing to give up a bus seat, 15 years before Rosa Parks' eruption onto the national scene. They desegregated lunch counters in Washington, D.C. – in 1943. Their law school arguments against "separate but equal" were applied by Thurgood Marshall when he appeared before the US Supreme Court in 1954. RBG herself cited Murray's influence on her use of the 14th Amendment to argue against discrimination on the basis of sex. As Murray put it, "I've lived to see my lost causes found."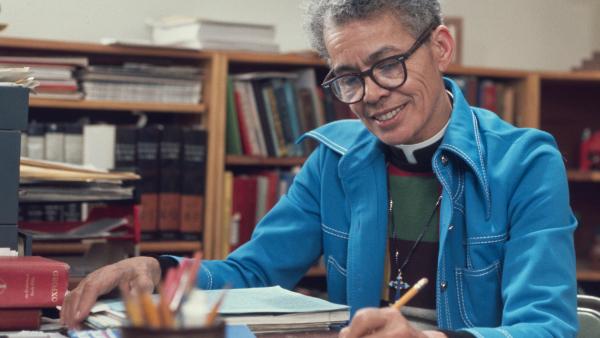 My Name Is Pauli Murray offers an excellent biographical overview. After their mother died young and their father was institutionalized, Murray was largely raised by an accepting aunt, one of the few who knew about their gender dysphoria and lovingly referred to them as "my boy/girl." Growing up in Durham, North Carolina, the presence of the KKK was a given, and lynchings were terrifyingly routine.
A recurring theme in their life history is the need to escape intolerable conditions (James Baldwin's analogous flight to France comes to mind here). Murray bolted to New York City for undergrad, afterwards passing for a white male as they rode the rails searching for work in the Great Depression. After graduating from law school – the only Black woman in their class at Howard University – they gave up a lucrative position at a private law firm to teach in newly-independent Ghana.
Murray was manifestly not one to accept injustice quietly. After a year at Howard University, where they weren't permitted to speak in class, they wrote of "Jane Crow," the double burden of racism and misogyny that Black women endure. When President Roosevelt spoke glowingly of UNC's "liberal" policies, Murray fired off chastising letters to FDR and Eleanor, resulting in a long friendship with the First Lady.
Unlike RBG, I appreciate that Cohen and West's newest documentary has a tone that is admiring but not hagiographic. Murray could be prickly in their impatience. Not surprisingly for someone stuck in the closet and suffering from lifelong gender dysphoria, they had yearly bouts of crippling depression. Murray's students at Brandeis shook their heads at their professor's refusal to use the word "Black," clinging stubbornly to the outdated "Negro" instead. As an atheist who recognizes the misogynistic, exclusionary harm inflicted by the church onto Black lives (I'm indebted to Sikivu Hutchinson's thoughts here), I'm bewildered by Murray's late-life ordination as an Episcopal priest – and of all the possible places, in the church where their grandmother was baptized as a slave!
Cohen and West don't break any new ground stylistically, employing the usual documentary mix of photographs, video footage, animation, and talking heads. However, My Name Is Pauli Murray was brilliantly edited by Cinque Northern, so their final product is kinetic and always engrossing. And fortunately, Murray held onto all of their correspondence and writing, including an audiotape version of their autobiography, so we hear much of this story in their own voice. Props to Cohen and West for choosing a worthy and relatively unknown subject to profile; our introduction to this amazing writer, pioneer, poet, activist, lawyer, priest, anti-racist, feminist, and humanist is long overdue.
(Image credit for star rating: Yasir72.multan CC BY-SA 3.0 )