With my move to the west coast, the southern institution I'll miss the most is Durham's Full Frame Documentary Film Festival. In the four previous years I've attended, I've seen three Oscar-nominated docs and one Oscar winner. I've laughed my ass off during the director's Q&A following Hail Satan?, wept through a screening of Newtown, and been inspired by profiles of activists and artists.
This year's iteration is online, allowing me to participate at least once more. I'd also encourage you to support this excellent organization and buy a ticket or three. Their discerning curation brings the best of international documentary filmmaking to American audiences.

A case in point is Radiograph of a Family, from Tehran-born director Firouzeh Khosrovani. Illustrating the courtship and marriage of her secular father Hossein and devout mother Tayi, Khosrovani's film captures the social tensions of Iranian life before and after the Revolution.
Narrated from the director's point of view, Radiograph opens with the arresting line, "Mother married father's photograph." The pair met and fell in love when Hossein was visiting family during a short break from his radiology residency in Geneva. Unable to take another respite from his studies but eager to marry this beautiful, far younger woman (he was born in 1926, she in 1944), the wedding ceremony did indeed involve the in-person bride in white next to a black-and-white photo of the in absentia groom.
It's a fitting start to a film told inventively by family photos and period video footage, with letters and dialogue voiced by actors portraying Hossein and Tayi. Hossein comes across as gentle and affectionate, if patronizing. Tayi on the other hand seems childlike, insecure, deferential.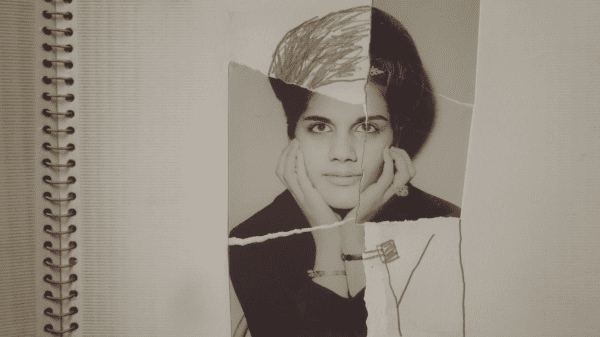 While the two clearly love each other, Tayi is a fish out of water in worldly Switzerland, perceiving herself surrounded by sin. The lack of prayer, the short skirts, and her husband's alcohol consumption scandalize her non-stop.
When Tayi becomes pregnant with her first child (the future director of this film), the tables begin to turn, as she prevails on Hossein to have them return to Tehran before giving birth. The gradually shifting locus of control from husband to wife is cleverly shown by a visual stylistic device that pops up periodically: an imagined version of their home's interior accompanied by the narrator's voiceover. When the couple moves in, the music is Hossein's beloved Bach, the painting over their bed a European nude. As Tayi immerses herself in pre-Revolution Islamic ferment, the painting is removed, and the soundtrack changes to demagogic lectures.
Like many marriages attempted between a religious and irreligious partner (been there, failed that), Hossein and Tayi's contentment is a zero-sum game. Lonely and scandalized in Geneva, Tayi finds purpose as a revolutionary in late 1970s Iran. Formerly happy with his docile wife, Hossein is dismayed as Tayi leaves their daughter untended for hours, then days, at a time.
Khosrovani's analysis is as dispassionate as her film's title. She doesn't take sides in her engrossing narrative of the evolution/devolution of her parent's marriage. It's left to viewers to draw their own conclusions: about the barrenness of women's lives in a secular patriarchy, and how the Islamic Revolution substituted one form of oppression for another.
(Image credit for star rating: Yasir72.multan CC BY-SA 3.0 )