Is In the Heights perfect? No. Is it worth a trip to the cinema? Absolutely.
There, that's out of the way. Reading the press coverage, it's clear this film, based on Lin-Manuel Miranda's first Broadway musical and directed by Crazy Rich Asians' Jon M. Chu, is carrying Everest-high expectations. With pre-feature trailers now including a semi-pleading "welcome back to the movies," it seems In the Heights is the film intended to draw audiences back to the multiplex.
I hope it succeeds, because its giant musical numbers cry out for a big screen. Most memorably, "96,000," choreographed à la Busby Berkeley, is set at a public swimming pool with extras numbering in the hundreds. Other tunes, also shot on location, beautifully showcase Washington Heights: the streets, apartments, fire escapes, and businesses of this largely Dominican neighborhood in NYC. The occasional special effects – almost but not quite overdone – call to mind musicals of old like Mary Poppins and Singin' in the Rain.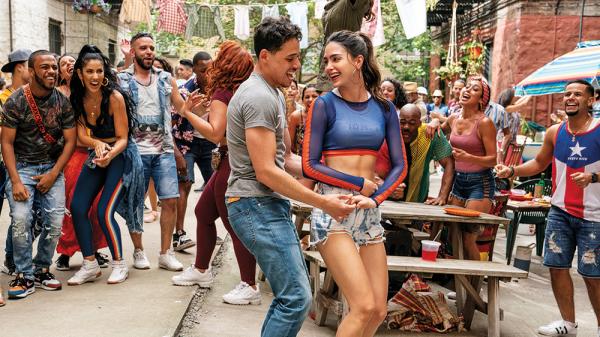 In the Heights is a hopeful celebration of community, something we could certainly use right now. Its intended release in Summer 2020 would've been perfectly timed, its almost totally Latinx cast and unapologetic mix of English and Spanish dialogue a thumb in the eye of MAGA nativism.
The youthful main cast is exceedingly likeable, too. (And it's refreshing to see them surrounded by performers of all ages and body shapes.) Each of the four has their own particular sueñito, or little dream. Usnavi (Anthony Ramos) manages a bodega while mentoring his cousin Sonny (Gregory Diaz IV), but longs to return to the Dominican Republic and run a business on the beach. Vanessa (Melissa Barrera) works in the neighborhood hair salon, but aspires to become a Manhattan fashion designer.
Nina (Leslie Grace), whose dad Kevin (Jimmy Smits) runs a taxi service, is "the one who made it out." Suffering micro- and macroaggressions during her first semester at Stanford, she wants to settle back into the community of Washington Heights without disappointing her father. Benny (Corey Hawkins, the only major non-Latinx cast member) works for Kevin, is smitten with Nina, and is aiming for dazzling financial success.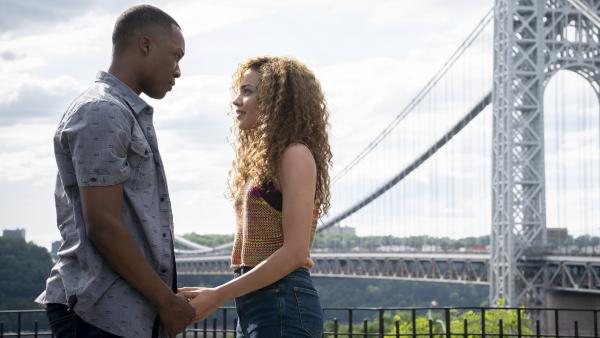 Despite its strong cultural identity, the Heights are in danger of gentrification. Half of Kevin's workspace has been bought out and replaced by an organic dry cleaner. Its "streets made of music" could turn into a upper middle class hipster haven.
By creating In the Heights, Miranda was crafting a love letter to the neighborhood of his youth, the locale where he still resides. Multiple residents are winsomely granted their own song, from Abuela Claudia (the Cuban-born grandma to the whole block), to the shaved ice vendor, or piragüero.
The overall result is an affecting portrait of a community. Beyond their individual sueñito, however, we never discern these characters' distinctive personalities. When a significant driver of the plot is supposed to be the romantic chemistry between Usnavi/Vanessa and Nina/Benny, that's problematic.
In many respects, In the Heights feels like a dry run for Hamilton. While the first work features rapid-fire wordplay akin to Miranda's second, and both brandish an exuberant mashup of music genres, In the Heights isn't bursting at the seams with hummable tunes and memorable numbers. At times, the melodies are surprisingly bland, the choruses over-repetitive.
Likeable though Usnavi is, he lacks Alexander Hamilton's complexity. The "ten-dollar founding father without a father" is charming, passionate, impulsive, opinionated, hubristic, brilliant, tender-hearted, a loving family man, an adulterer. I'm hard-pressed to come up with half as many descriptors for Usnavi.
(As an aside, this film will definitely appeal to Hamilton fans from a casting point of view. Ramos was one of the four leads in Hamilton. Miranda, who portrayed Usnavi during In the Heights' Broadway run, is the piragüero here. And there's a hilariously-placed cameo by another Hamilton star and cast member of the original In the Heights.)
Thematically, both shows clearly emerged from the same mind, though In the Heights focuses more upon the balancing act of immigrant children, honoring their parents' sacrifice while finding their unique path. Both are aspirational portraits of America, that "great unfinished symphony," the place where immigrants have always been getting the job done.
(Image credit for star rating: Yasir72.multan CC BY-SA 3.0 )