The inhabitants of the Italian seaside village Portorosso talk-a like this, all-a the time. A character exclaims "Santo Gorgonzola!" One of the three events in the local triathlon is, I kid you not, a pasta-eating contest.
Yeah, Luca has an ethnic cliché problem. But it only gets worse. The lead voiceover by the normally terrific child actor Jacob Tremblay has two registers, LOUD BUT CLEARLY ENUNCIATED or soft and serious. The teenage villain has less nuance than an atheist in a Pure Flix movie. The adults are one-dimensional: overprotective mom, neglectful dad, feisty grandma.
For a pair of writers whose CVs include well-above-average films like Soul and Me and Earl and the Dying Girl, the storyline here is dishearteningly rote. The mid-movie conflict between the two main characters feels artificially tacked on, the climax and resolution visible from a nautical mile away.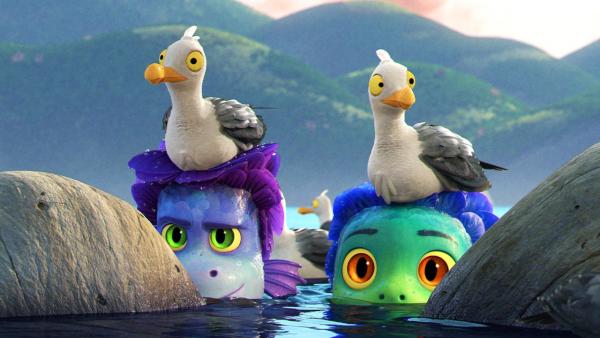 Luca starts off promisingly enough. Set underwater along the Mediterranean coast, its preadolescent title character is a tailed humanoid herding fish for his family. Bored by his routine, his curiosity is piqued by recently fallen items from a fishing boat passing overhead. Despite the warning from his mom that "curious fish get caught," upon meeting Alberto (Jack Dylan Grazer), a fellow kid aquatic who now lives on land, he can't resist leaving the water.
When their species goes on land, they fully transform into humans. The scenes where Luca learns about land life from blustery, endearingly naïve Alberto are charming and funny. For one thing, Luca doesn't know how these things called legs are put to use. The film cleverly puts us in the headspace of someone discovering the things we land dwellers take for granted.
Unfortunately, Luca can't sustain this momentum when the boys head to the nearest village. Bewitched by the notion that a Vespa is the height of human civilization, they hope to score one in Portorosso. Befriending Giulia (Emma Berman), an outcast girl their age, they attempt to earn enough lira for a scooter by winning the aforementioned triathlon. Meanwhile, the boys have to dodge any water that could expose their aquatic nature, villagers afraid of sea monsters, the town bully, and Luca's parents as they search for their missing son.
The visuals here are better than your average children's animation, but lack the wow factor of last year's Pixar releases, Onward and Soul. The music is never better than kid-flick generic, disappointing work from the composer who gave us the exhilarating score to Beasts of the Southern Wild. Luca's messages – be inquisitive, welcome those who look different than you – are laudable, but the vehicle for their delivery doesn't rise above banality.
With only two enthralling gems in the past four years, Coco and Soul, Pixar's current batting average barely hovers above the Mendoza Line. Pete Docter, slow down! Please return to your heady years of prizing quality over revenue.
(Luca is now streaming on Disney Plus.)
(Image credit for star rating: Yasir72.multan CC BY-SA 3.0 )