B.B. King. Nina Simone. Stevie Wonder (19 years old! On drums!). Sly and the Family Stone. Mahalia Jackson. Max Roach.
Did you know these Black musical legends once shared a festival stage? As one commenter states towards the end of Ahmir "Questlove" Thompson's superlative documentary, Summer of Soul: "We hold these truths to be self-evident…that Black history is erased."
In the case of 1969's Harlem Cultural Festival, forty hours of footage sat unseen in the basement of its producer and videographer Hal Tulchin for fifty years. As he shopped it around to distributors, even comparing it to Woodstock of that same summer, it attracted no interest.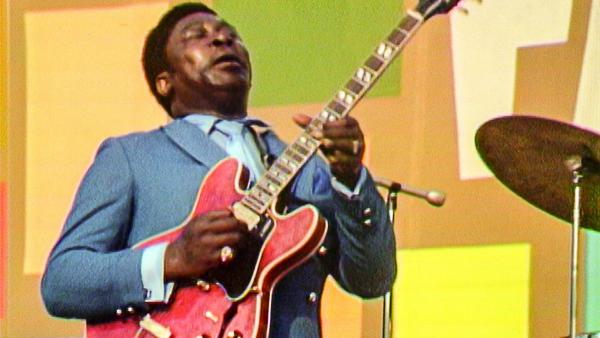 Thankfully, Thompson rescued these magnificent sounds and images from that basement. With the help of editor Joshua L. Pearson (What Happened, Miss Simone?), he has crafted a masterful saga of a place, an era. I won't be surprised if this ends up my favorite film of 2021 – and it's the first time since returning to the cinema that an audience applauded as the credits rolled – which makes it all the more amazing that this is Thompson's feature directing debut.
Summer of Soul rightly focuses upon the performances. Tulchin and his team expertly combined shots of entire ensembles with closeups of individual performers, and we hear one or two songs from each act profiled. We enjoy the choreographed dance moves of Glady Knight's Pips and the joyous twirling of the Fifth Dimension as they sing "Aquarius/Let the Sunshine In." Mahalia Jackson pours her whole being into "Precious Lord, Take My Hand," the last song requested by MLK before his assassination one year earlier. B.B. King's hands fly across his guitar strings, while the manic drumming by Wonder and Roach defies the laws of physics.
The shots of the crowds are a technicolor portrait of a transitional fashion period. Middle-aged and elderly men and women in their Sunday finery mix with Africa-inflected styles, massive sideburns, and leather vests.
For viewers in 2021, the audience's intense engagement – clapping, singing, dancing, crowding the stage – makes their enthusiasm contagious. As the music plays, Thompson and Pearson deftly cut away from the action in 1969, to allow performers and once-youthful spectators to share their experiences of the festival. Harlem residents describe their close-knit community in idyllic terms, stating that the men and women in the crowd numbering 300,000 looked like royalty. Summer of Soul doesn't gloss over the problems besetting the borough, such as the explosion of heroin addiction, but we get an entirely different feel for Harlem than the sensationalized ghetto portrayals habitually served up by news media.
Thompson seamlessly uses the festival to offer easily-digested history lessons, of this season of "cultural re-evaluation." As Al Sharpton puts it, 1969 was the year "the Negro died, and Black was born." Black became beautiful, as the self-loathing connotations imparted by White America were rejected.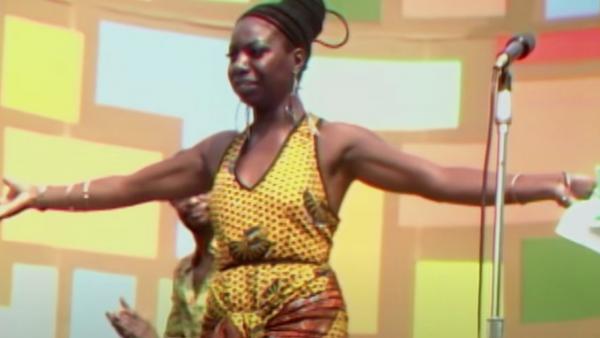 Following the martyrdom of leaders like King and Malcolm X, the ethos of nonviolent protest collided with "by any means necessary." (Indeed, after the NYPD was unwilling to provide festival security, the Black Panthers stepped into this role.) Jesse Jackson's words from the stage seem to bridge these opposing poles, lamenting Malcolm's violent demise while narrating an eyewitness account of King's final moments to visibly stricken listeners.
Thompson also weaves in the context of the ongoing Vietnam War and the moon landing. Go figure, Harlem residents were not onboard with the White imperialistic program, nor with lavish spending on the space race, as their neighborhoods endured malign neglect.
Commenters in Summer of Soul postulate that the festival was greenlit by authorities as a riot-prevention tactic. Mayor Lindsay and other civic leaders didn't want Harlem to go up in flames in 1969, as it had in reaction to King's assassination.
Regardless of the rationale, the outcome was an incredible assemblage of legends of pop, Motown, gospel, blues, psychedelic R&B, jazz, Latin, and South African music. Don't pass up Thompson's repair of this historical sin of omission, this half-century of cultural amnesia: come for the tunes, stay and absorb some knowledge.
(Summer of Soul is now playing in theaters and on Hulu. See it in a theater unless you have a kickass sound system at home.)
(Image credit for star rating: Yasir72.multan CC BY-SA 3.0 )