Normally, when four writers are involved on a script, it's a strong indicator of a movie mess, of too many cooks in the cinematic kitchen.
Not this time.
For Stillwater, the latest from director Tom McCarthy (Spotlight, The Station Agent), I have no doubt his choice to add a pair of French writers brought extra depth to the draft originally hammered out by him and Marcus Hinchey.
Thomas Bidegain and Noé Debré are probably best known for their script work on films by Jacques Audiard, creator of gritty dramas focused on the lower socioeconomic strata of French society, such as Dheepan, Rust and Bone, and A Prophet. There is some of that sensibility here; in Stillwater, we see plenty of Marseille that wouldn't feature on a Rick Steves itinerary. More than that, though, McCarthy's film cannily illuminates the contrast between Mediterranean and American values, a project enhanced by having writers from both sides of the pond.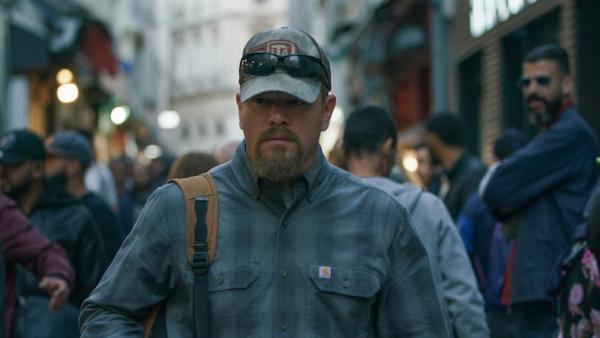 Stillwater is also savvy enough to drop us into its story at a later juncture than most thrillers. Nor does it ever deploy the tired trope of flashing back to the murder that landed American college student Allison Baker (Abigail Breslin) in a French prison. Instead, Allison is five years into her sentence – accused of killing her lover Lina – when we first eavesdrop on one of many visits by her father Bill (Matt Damon).
This time, however, Allison asks her dad to play courier for a letter to her attorney, as she learned a young man at a party was overheard confessing to a murder like that for which she's imprisoned. The lawyer shuts Bill down, telling him a French judge won't reopen a case on hearsay. Taking matters into his own hands, Bill combs Marseille for the elusive Akim, aided by Virginie (Camille Cottin), a local woman who takes pity on him.
This synopsis could suggest any number of formulaic "wrongly accused" dramas. But Stillwater is at its best in creating complex characters and allowing us to observe the evolution of their relationships. Bill is an oil rig roughneck who found Jesus after years of drinking and drugging. Abigail barely disguises her contempt for the man who was an absentee father. She saw studying in Paris' scrappy urban cousin as a chance to get as far away from Oklahoma as possible.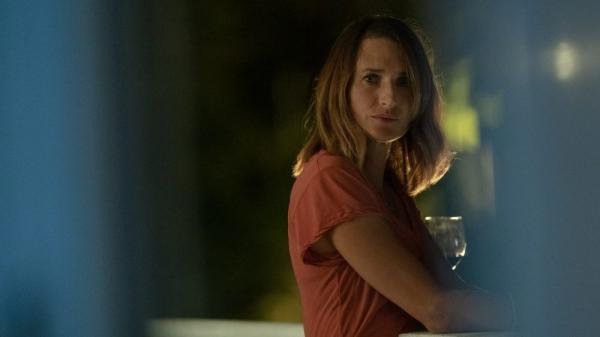 A single mom and theater actor, Virginie is unpretentious and plausibly intrigued when the father of an infamous American drops into her life. The man wearing plaid shirts, blue jeans, and a trucker cap who speaks no French initially entertains her, but she grows to respect him and his efforts at atonement. The script is too intelligent to say it outright, but the bond between Bill and Virginie's daughter Maya (Lilou Siauvaud) is clearly a chance at a do-over for Bill's failures with Allison.
Each of these four main actors is superb, but it's worth singling out Damon and Siauvaud. As a critic, I find it easy to take for granted someone as prolific as Damon. But his work here is on a par with his career-topping performances in Behind the Candelabra, True Grit, and The Talented Mr. Ripley. As Bill Baker, he carries himself with the stiffness of a middle-aged man who's done a lifetime of heavy manual labor, shouldering the repressed emotion inflicted by decades of regret.
By contrast, this is Siauvaud's first film role. My initial impression was of a moppet si mignonne, but as the bond strengthens between her character and Bill, it's apparent this kid is capable of nuanced, subtle expression. To say more would spoil the final act, but Siauvaud could have a great film career if she wants it.
For a movie whose trailer marks it as a thriller, Stillwater is ironically at its weakest as it plays that way at its open and close. The last 30 minutes in particular collapse into predictability in places. (In addition, this is one of those films that would've been better with less music, as Mychael Danna's mostly uninspired soundtrack tries to milk our adrenaline in the segments bookending Stillwater.)
Fortunately, the central 90 minutes are brilliant and captivating. The screenplay also has a surprising amount of humor: when Virginie notes the burgers Bill has made for her and Maya, she quips with the cadence of a French person speaking English, "When I see what you eat, I know why you pray before."
Through its characters, McCarthy's film interrogates various manners of engaging the world. Bill is the gun-owning individualist, willing to go vigilante when police and judges won't act, a great-nephew to John Wayne in The Searchers. Virginie is more communal, trusting the systems she lives in. Allison, influenced by her now-dead Arab lover, has imbibed an Islamic fatalism.
Thankfully, Stillwater eschews passing judgment, showing us the cost and benefits of each worldview. American movies have been rightly criticized for insisting upon tidy, happy resolutions. As such, I bet we have the Gallic writers to thank for this film's refusal of these tendencies, and it's far stronger for its ambiguity.
(Image credit for star rating: Yasir72.multan CC BY-SA 3.0 )