"People ask me what my films are about and I never know what to say. There shouldn't be questions and answers, but questions and more questions and doubts."
I adore this comment from French director Leos Carax's recent New York Times interview (even if I haven't read far past it yet, because the writer started veering into review territory). One, I think this is a worthy goal for feature films, which unlike documentaries, should mostly eschew didacticism. Two, I feel Carax's body of work exemplifies this goal.
2012's Holy Motors, his most recent film before Annette, is still a headscratcher after three viewings. I know it's shocking and wonderful, and it features a marvelous shapeshifting performance by Denis Lavant. Following an actor around Paris over the course of a day as he inhabits nine different roles, Carax gives us an overview of movie history and the special demands of being a performer. Beyond that, to say what the film is about, I'd largely be speculating.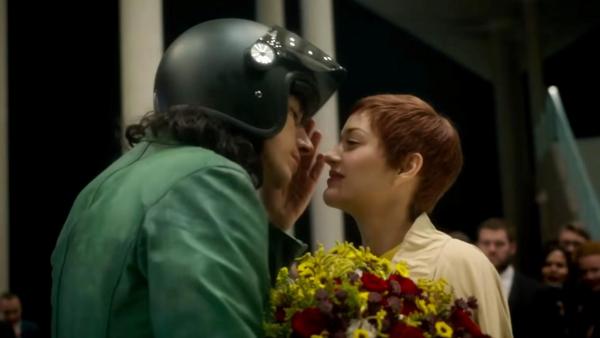 Annette offers a few more clues. As directed by Carax and written by Ron and Russell Mael (the sibling duo comprising the band Sparks), I think its creators are dipping into the motives for artistry, why we're drawn to it as spectators and participants, the misogynistic undercurrent of art, and the insanity of love.
Both Holy Motors and Annette commence with a cameo by the director. In Holy Motors, he arose from an elegant bedroom to become a cinematic voyeur. Here, he's the sound engineer in a Santa Monica recording studio. Revealing the performative nature of this film, the joyous opening number "So May We Start" introduces us to Carax, the brothers Mael, the lead actors, and a pair of backing choruses, as the actors go separate ways for their first scenes.
Henry McHenry (Adam Driver) points his motorcycle towards a club, where he tops the marquee as the angry, contemptuous comic The Ape of God. Pacing the stage in boxer's garb, he dismisses the audience's reasons for why he's a comedian (it's not Oedipal, it's not a fear of death), before settling on it as a means of speaking the truth without getting murdered for it.
We periodically crosscut to Ann Desfranoux (Marion Cotillard) at the Walt Disney Concert Hall. A lead operatic soprano with an angelic voice, the crowd worships her in equal proportion to its hostile fascination with Henry. When the two lovers reunite at the end of their performances, each asks how the other did. Henry states, "I killed them," to which Ann responds, "I saved them."
Annette unspools the whirlwind romance of this duo, from rapturous lovemaking (yes, set to a song), to marriage, to the birth of their daughter for whom the film is named. The self-congratulatory "We Love Each Other So Much" describes their infatuation as anti-logical and counterintuitive, while later dialogue speaks to such love as a form of sickness. Subsequently, their careers veer into different trajectories, with green envy poisoning the water.
For his first English language film, Carax successfully exchanges the Parisian milieu of Holy Motors for Southern California. Instead of the Champs-Élysées and the Seine, we have a poolside that can be Edenic or bestial jungle as circumstances dictate. In place of tiny outdoor café tables, we have 24/7 celebrity gossip.
Annette is a masterclass of audacious editing. In the same song, we seamlessly transition from cunnilingus to birthing room stirrups, where medical beeps augment the rhythm. Befitting yet another SoCal "crime of the century" turned media circus, we segue from courtroom to theater. It wouldn't be a Carax film without strange surprises, too, and the portrayal of little Annette is stunning, comical, and effective.
Likewise, the acting here is all topnotch. In terms of singing, Cotillard is the true revelation, impressively hitting her own high notes, especially considering that she lip-synced Edith Piaf in La Vie en Rose.* Simon Helberg plays the Accompanist, silently in love with Ann on the sidelines. If A Serious Man and Florence Foster Jenkins weren't evidence enough, this film indicates Helberg will have a vigorous career beyond The Big Bang Theory.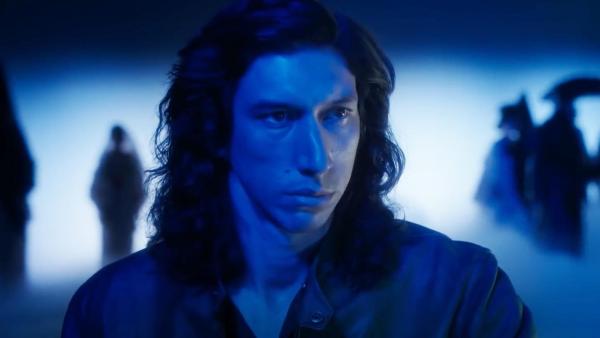 Adam Driver gets most of the screen time in Annette, and is incredible to watch. After the best scene of 2019's Marriage Story, it was obvious he'd be able to hold his own in a musical, but given the way he throws his entire body into his standup performances here, he needs to walk away with some major awards in the coming months. I hope he continues to avoid the typecasting bedeviling actors like De Niro, Pacino, Denzel, and Tom Hanks; he's unafraid to turn charming, unpleasant, or downright malevolent if the role demands it.
As we learned in Edgar Wright's winsome documentary The Sparks Brothers earlier this year, Ron and Russell Mael were strung along for years by Tim Burton, with promises of a major movie project that never materialized. Sometimes, right prevails, and I'm thrilled these pure musical souls were able to trade an overrated kitsch-maker for a cinematic visionary like Carax.
In writing and composing Annette, the Maels draw upon two lifetimes of cinephilia and fifty years of music partnership. The songs here effectively cross the genres of rock, hip-hop, Broadway musical, and classical music. While not derivative, the influences they wear on their sleeves include Edgar Allan Poe, Jean Cocteau, Verdi, Arnold Schoenberg, Andrew Lloyd Webber, and American minimalist John Adams. Indeed, my favorite song, besides "So May We Start," is a #metoo-inspired piece entitled "Six Women Have Come Forward," which sounds as though it could've been lifted from Adams' great opera Nixon in China.
With that song, as well as a montage of famous operatic martyrs played by Ann, the Maels and Carax seem to comment on the centuries of unhealthy dependence upon female victimhood in our art. Since Carax dedicated this film to his daughter Nastya, I suspect he's hoping we can do better moving forward.
(Annette is now playing in theaters and drops on Amazon August 20th.)
(Image credit for star rating: Yasir72.multan CC BY-SA 3.0 )
*Correction: Watching the credits roll during a second viewing revealed that Catherine Trottman lent her voice for Ann's operatic performances.