By no means am I a true crime devotee, but No Man of God is something special.
I spend two days a week providing mental health services to patients in correctional facilities, so promises of getting into the mind of a killer sound too much like work. I already see my share of sociopaths and small-time liars (and let's be honest, many unfortunate souls who would be receiving inpatient psychiatric care or addiction recovery services in a more advanced, less punitive society).
So it has to be an artful, insightful, unsensational true crime film to get me watching: Werner Herzog's Into the Abyss, Liz Garbus and Michelle McNamara's I'll Be Gone in the Dark, Alex Gibney's Crazy, Not Insane, to name a few. Amber Sealey's Ted Bundy saga No Man of God joins their ranks.
Sealey's film opens with a 1989 news clip of Bryant Gumbel announcing that Bundy has moments ago been executed at Florida State Prison. So the ending of the film won't come as a surprise, just how we get there. We then jump back to 1985 and meet Bill Hagmaier, member of the inaugural class of FBI profilers at Quantico.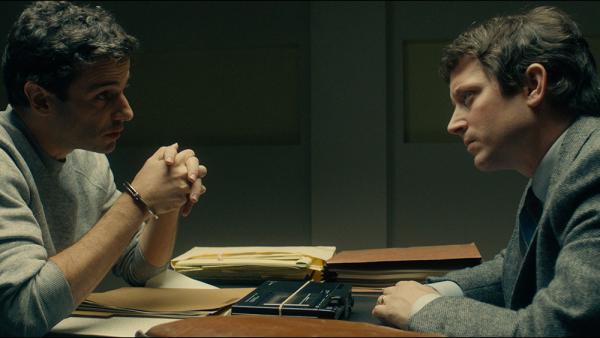 An intertitle informs us this film was inspired by the profiler's recordings, transcripts, and recollections, and it feels authentic throughout. When none of the agent's colleagues volunteer to reach out to Bundy – the serial killer has been vocal about his loathing of the feds – Hagmaier assents to the challenge. After Bundy surprisingly responds to his epistolary overtures, the agent is off to Florida.
At the time of Hagmaier's arrival in the Sunshine State, Bundy was in the middle of his death penalty appeals, still protesting his innocence. Hagmaier's goals are two-fold: deepen the Bureau's understanding of serial killers, and nudge Bundy into confessing to the dozens of murders he's suspected of committing.
No Man of God is talk-heavy, but the script by first-time screenwriter Kit Lesser is a gripping, scintillating character study of both men. Though largely a single-room drama, every minute of their sparring held my attention.
Hagmaier begins by appealing to the prisoner's narcissism, acknowledging that Bundy is more educated than he. Soon after, he makes common cause, enlisting his aid in better understanding criminals. And all along, he states he merely wants to comprehend Bundy, not judge him.
Sealey elicits magnificent performances from her two leads. Luke Kirby imbues Bundy with a fascinating mix of gravelly-voiced swagger and stuttering insecurity. As his execution approaches, he even becomes pitiable. I said I'm not a true crime zealot, but my wife Jessica definitely is, and she reports that Kirby nailed Bundy's vocal cadence and mannerisms. Till now, Kirby has mainly featured in television (The Marvelous Mrs. Maisel, The Deuce, Rectify); this performance should score him plummy film roles.
Elijah Wood lends Hagmaier a comparable level of complexity: a piety inches short of sanctimony (mostly), a confidence barely this side of arrogance. Like a good clinical interviewer, he keeps his reactions to Bundy in check – at least to start, though his boundaries later erode.
No Man of God is not a perfect film. In particular, the music overpowers the drama and dialogue in places, and I'm not convinced the artsy montages at the beginning enhance the product as a whole. But Sealey's film delivers three times the ideas and thematic material of most movies, and its climax packs a wallop.
As a through-line, Bundy and Hagmaier continually debate what, if anything, distinguishes a killer from your ordinary man on the street. Bundy contends "normal people kill people," and the profiler narcissistically counters with "that's not who I am."
Putting on my psychiatrist hat, I'd say they're both right. Psychologists like Simon Baron-Cohen and Kent Kiehl have marshalled the evidence for psychopaths as behaviorally and neuroanatomically distinct from the general population.
But No Man of God is equally persuasive in demonstrating that, as a society, we are just as psychopathic as Ted Bundy. In splendid cinematic form, Sealey shows rather than tells. Through period footage, we observe the festival atmosphere outside Florida State Prison, as the crowd awaits Bundy's state-accomplished murder. Note the placement of flags and other patriotic images, to see that the people outside and inside the prison are meant to represent America the Beautiful in all its bloodthirsty glory.
More audaciously, by paralleling James Dobson and Hagmaier, the film argues that the FBI agent even betrayed and abandoned Bundy. You may recall how Focus on the Family's moral crusader scored an interview with Bundy hours before his execution. As depicted here by Christian Clemenson, Dobson exploits Bundy, reneging on his bargain to plead clemency to Florida's governor.
These two men wearing piety on their sleeves are Judases to Bundy's Christ. A living Bundy could've offered answers to the families of missing women, as well as deeper insights into the brains of psychopaths. But instead of channeling funds into programs to help youth at risk (per Kiehl's book, they actually work), we'd rather feed our lust for vengeance, blowing millions on lengthy appeals and special death row housing.
I'm pretty sure the failed man of God of the film's title is just as much Hagmaier as Bundy.
(No Man of God is now playing in theaters and is available to stream at home on most major rental platforms.)
(Image credit for star rating: Yasir72.multan CC BY-SA 3.0 )