"Don't behave as if you are destined to live forever. Death hangs over you. While you live, while it is in your power, be good. Now."
Not Going Quietly got me thinking about the Stoics. Whether Marcus Aurelius (quoted above), or Seneca (who famously wrote we're dying every day), mortality stayed fixed in their sights.
Ady Barkan, the subject of this new documentary now in theaters, has faced his mortality sooner than most. As seen in Not Going Quietly's prologue, 2016 was a busy year for the progressive activist: he married his high school sweetheart Rachael, she gave birth to their son Carl, and he was diagnosed with amyotrophic lateral sclerosis (ALS).
Describing himself as already dying at age 32, Barkan is definitely thinking about his legacy. He wants his son to remember him with pride.
Before his diagnosis, Barkan was a leader in Fed Up, an organization battling for racial and economic justice. After a year of combatting amoral insurance companies, a process he labels "worse than dying," he shifts his activist energy to healthcare.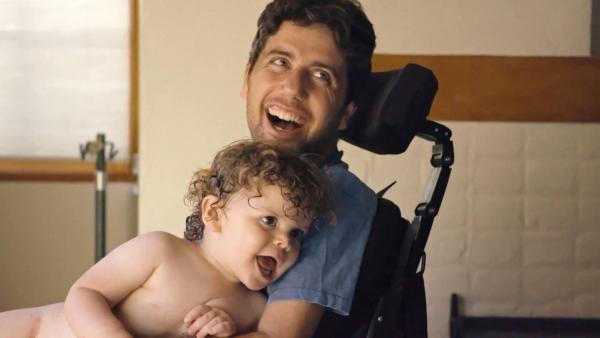 In December 2017, during a chance encounter with Senator Jeff Flake on a commercial flight, Barkan exhorts the senator to "be a hero" and not eliminate pre-existing conditions from insurance coverage. Serendipitously, Barkan had met political strategist Liz Jaff moments before, and together they hilariously label the filmed encounter #flakesonaplane.
When #flakesonaplane goes viral, Barkan and Jaff realize they have major activist chemistry. Despite Barkan's rapid physical decline, they decide to traverse America over 40 days, stopping in battleground districts before the 2018 midterms.
As directed by Nicholas Bruckman, Not Going Quietly bops along at a brisk pace. Bruckman's documentary underscores Barkan's eloquence and charisma, while providing a mini masterclass in how to get mealymouthed, craven politicians on record: go where they are, shake their hand and don't let go, don't try to convince them, but verbalize with clarity the moral consequences of their (in)action. Ultimately, Barkan's activism was so visible and effective that he landed interviews with the Democratic Presidential candidates in 2020, grilling them on their healthcare stances.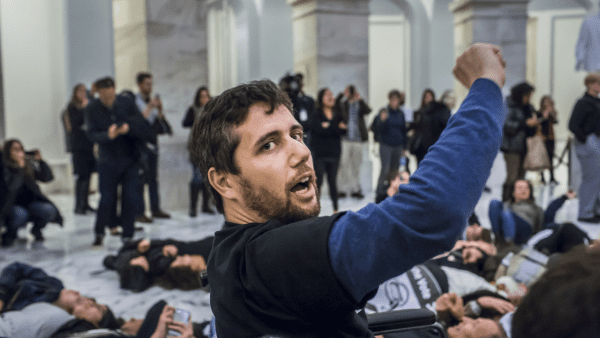 Bruckman's camera doesn't flinch from showing Barkan as he literally wastes away before our eyes. At the start of his film, he's still walking and speaking vigorously. Before long, he's wheelchair-dependent, using an artificial voice, and debating whether to prolong his life by way of tracheostomy.
Likewise, Not Going Quietly doesn't shy away from the fear and grief experienced by Barkan in his sickness and decline. But he's exemplary in coping through humor and joy. Barkan has a broad smile that extends to his eyes, whether joking with his best friend and caregiver Nate, or exulting in his son Carl's singing of "What a Wonderful World."
Not Going Quietly is particularly instructive for humanist viewers. I don't know Barkan's personal belief system, or lack thereof, though his online biography states he was raised by secular Jewish parents. However, in the documentary, there's no mention of religious faith or a fictional hereafter; the focus is exclusively on living the one life we have to the utmost.
(Image credit for star rating: Yasir72.multan CC BY-SA 3.0 )