Right now, a movie taking place across a videoconferencing app might sound as appealing as a trip to the dentist. But give Language Lessons a chance, and I'm confident you'll be won over. (Viewers at the SXSW Festival earlier this year agreed, conferring their Audience Award upon it.)
This is a cathartic pandemic movie that's not directly about the pandemic. There are no masks, nary a mention of COVID. But by solely involving two characters communicating by screens between Oakland and Costa Rica, it mirrors the social isolation we all felt in 2020 and could feel again.
Yet it avoids being a downer. Language Lessons is that rare tone-perfect film, balancing humor and grief in a way that's ultimately hopeful. Its leads are buoyant and charming, but with plausible darker shades. Adam in Oakland (Mark Duplass) can wear his affluence too brashly; Cariño in Costa Rica (Natalie Morales) is capable of lashing out cruelly. But they're both good people at their cores, persuading us that kindness can carry the day.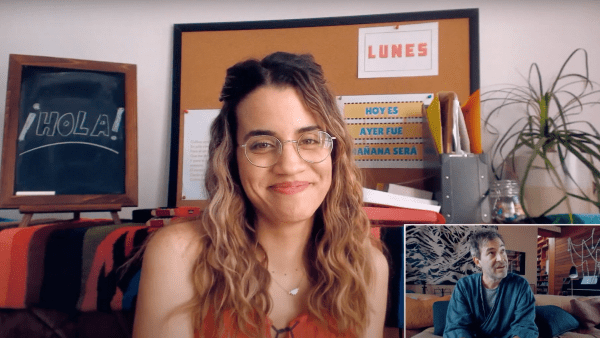 Co-written by our two leads and directed by Morales, Language Lessons was birthed in unexpected downtime, when Morales' work on another project was shut down by COVID. The narrative conceit they devised was ideal for safe pandemic shooting.
The film opens with Adam's husband gifting him with two years of weekly online Spanish lessons. Will – who we only ever see as a blur in the opening sequence – heard Adam's regret over "losing his words" from time lived in Mexico. So, on his 45th birthday, he surprises him with an open video screen, where Cariño awaits.
Between their first and second sessions, sudden tragedy hits Adam, to which Cariño responds with warmth and empathy. Practicing conversational Spanish is a welcome distraction for Adam. As they talk, they open up about their histories: coping with loss, coming out of the closet, Catholic guilt.
Morales' and Duplass' script is witty and insightful. Adam's Spanish is fluent but peppered with grammatical errors, shown by quotation marks in the subtitles. His fumbling efforts at more sophisticated vocabulary (how to say "mansplain" in another language?) allow them, and us, to laugh together.
Duplass has a true gift for physical levity, while Morales displays her talent for reaction shots, sharpened by supporting roles in comedies like Parks and Recreation, Dead to Me, and Santa Clarita Diet. Their chemistry together is delightful.
Language Lessons also manages the balancing act of using contemporary technology without feeling desperately trendy (You've Got Mail, anyone?). Glitchy sound and jumpy video appear enough to be realistic, without distracting from the story.
We see through this film that Zoom-type technology can be confining. The boxy images only show us a part of person's life, which permit hiding and deception. Yet meaningful connection – through grief, with or without an app – is possible for those who strive for it.
(Language Lessons is rolling into theaters, starting today.)
(Image credit for star rating: Yasir72.multan CC BY-SA 3.0 )