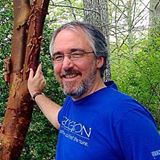 I'm a late arrival to atheism. First, I spent decades as a Sunday school teaching, mission trip taking evangelical Christian. But starting in my 30's, insightful books and a freethought community guided me to secular humanism.
No matter my worldview, movies have been a lifelong consuming passion. I have wonderful childhood memories of staying up late to watch James Bond on TV and of waiting in a winding line to see Star Wars in its opening weeks. Nowadays, my pulse quickens both to the latest Christopher Nolan spectacle and to the discovery of obscure movie treasures.
I've been a psychiatrist for over twenty years, with particular interest in PTSD, geriatrics, and the interface of mental health with culture and religion. In 2011, I combined my clinical and cinematic passions, writing a chapter on themes of trauma in Japanese cinema for Faith and Spirituality in Masters of World Cinema, Volume II. During the past year, I've been reviewing films as a guest critic on Tinsel and 1More Film Blog at Patheos.
I live in East Tennessee with my wife Jessica, my three teenagers, and our five dogs.
Follow me on Facebook!