According to NBC San Diego, a local Catholic Church has been handing out fliers inserted in their bulletins warning churchgoers that voting Democratic will result in eternal punishment in hell. The insert calls Hillary Clinton satanic and purports that voting for her is a mortal sin — a sin as serious as rape or murder according to the Catholic Church.
In the flier, the church details Democratic stances on several issues and concludes that a vote for a Democratic candidate equals complicity in such matters, and is deserving of eternal punishment.
Wow. I don't know about you, but I'm feeling inspired by the love of Jesus.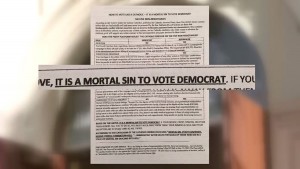 When asked about the fliers, Immaculate Conception pastor Father Richard Perozich said, "The fact that somebody took this and then made it public took it out of context." Isn't "out of context" always the defense when people say something stupid? Sorry, but this is not out of context. It's a typed flier that was handed out to parishioners. We have the FULL context.
It's well-known that involvement in political matters by a church can jeopardize their tax-exempt status, and this case is certainly one to be looked at by the IRS. Unfortunately, I doubt anything will be done about it, as there have been widely reported incidents of politicking from the pulpit, especially in recent years, that get ignored by authorities. It's sadly very rare for a church to lose its status due to its involvement in politics. Alas, we battle on.
---