On Feb 1st, JPS Hunt Elementary, a public school in Jackson, Michigan, posted an image on their Facebook page with the following caption:
Hunt's Good News Club is back in session!
On the surface, that's not a big deal. So normally, when I see posts like this, I like to add my two cents in the form of a notice to local parents about the Good News Club's abhorrent practices, including psychological abuse and the tearing down of children's self-worth. This instance was no different. I commented with the following:
NOTICE TO PARENTS: Be advised that the Good News Club will attempt to scare your kids into pledging their lives to Jesus, by teaching them they're inherently flawed, have sinful hearts, and are deserving of death and eternal separation from everyone they love. The Good News Club is predatory and psychologically abusive. If you want to teach religion to your kids, do it at home or in your churches. Don't let these fundamentalists do it for you. If you're ok with a stranger tearing down your child's self esteem, then by all means, sign them up.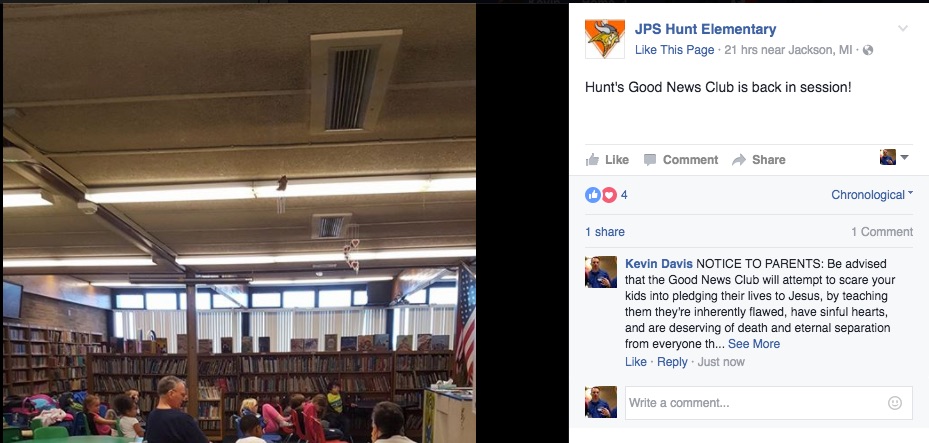 In similar situations in the past, schools have elected to take down their Good News Club-related posts, most likely in order to avoid controversy or similar comments that might follow. In this instance, however, JPS Hunt Elementary School deleted my comment and blocked me from future commenting or messaging the page's administrator. This action seems to have placed the school in a precarious position. By silencing my voice, they've effectively chosen a side in a fight they shouldn't be a part of at all, as the GNC is an outside agency not endorsed by the school. By deleting my comment in opposition to the GNC, JPS Hunt Elementary is protecting and endorsing the Good News Club. This is an unconstitutional act. Public schools and other government agencies are prohibited from endorsing religious groups.
"But Kevin, what can we do about it?"
I'm glad you asked. Activism is not just reserved for marches on Washington. Activism is something we can and should all participate in, in any way we can. This one is easy. You can do it right now.
I encourage all SecularVoices readers to stand up for secularism and contact the school today! Demand they take down their post altogether or reinstate my notice to parents. Add your own comments to the post (link below), message the school, or even call them. We must stand up for children who are being manipulated by fundamentalist religious zealots. We must stand up for the constitutionally protected separation of church and state. We must stand up for reason and science education.
Be Rational. Be Outspoken. Be Heard.
JPS Hunt Facebook Post – Good News Club
UPDATE: Success! The school has removed their post about the Good News Club. Wow, that was fast! We were rational, outspoken, and heard! Thank you, SecularVoices readers.
Did you enjoy this article and want to see more like it, while at the same time support the SecularVoices Podcast, Young Skeptics, and the activism of the SecularVoices staff? Then please consider becoming a Patreon patron today!
Click here to find out how you can help and what great rewards you'll get in return!
---