Today in Alexander County, North Carolina, the Wittenburg Elementary School held a day of fun for their kids called "Field Day." From the photos posted on the school's Facebook page, it looks like the kids had lots of fun outside playing games and eating snow cones. There's a problem here though. It appears the snow cones, as well as drinks resembling Kool-Aid (oh the irony), were provided by the predatory fundamentalist Good News Club, who by law, are not to be associating with kids during school hours or at official school functions. Oops.
This could be one of the clearest and best-documented church-state violations I've found involving the Good News Club in elementary schools. Both the school and the Good News Club should know better than to allow for the advertising of their club during a school function.
Not only did the Good News Club provide the refreshments, but they also had an informational booth designed to generate interest in the club. In the 34 photos posted by Wittenburg Elementary, I saw no other outside group represented — no booths or information about other clubs, scouts, or other activities were present. I can only assume they weren't invited.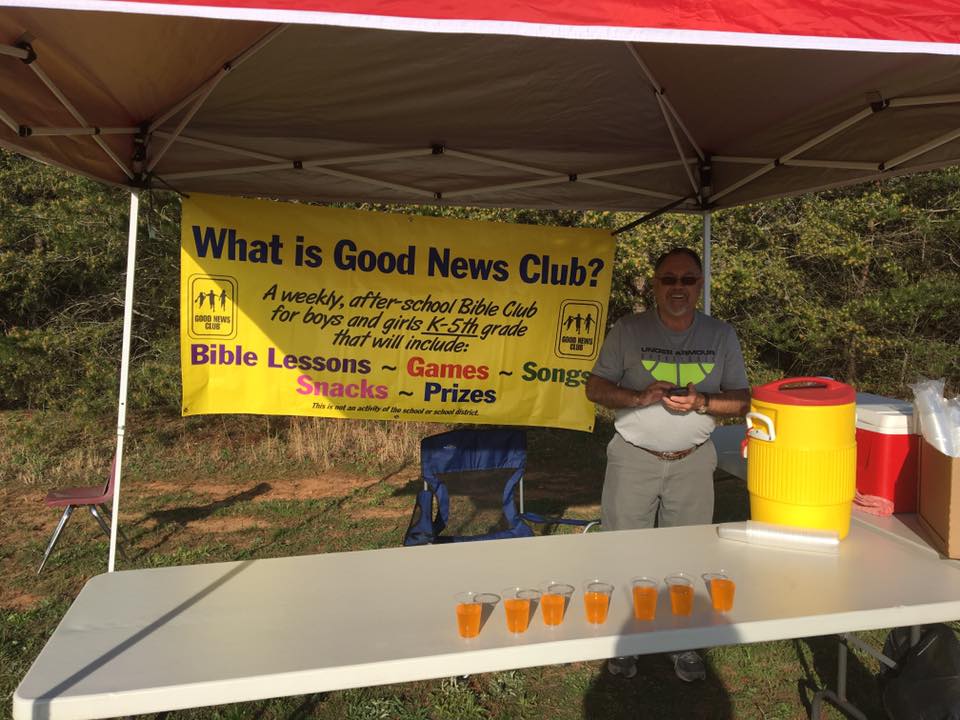 I've reported the violation to both the Freedom From Religion Foundation and Americans United for Separation of Church and State. I hope they'll follow up with the school to be sure they're aware of the Constitutional Law as well as case law that prohibits the intermingling of religious groups with public school children during school hours.
Wittenburg Elementary, if you're not going to advocate for the safety of children against predatory, psychologically abusive groups like the Good News Club, then I will. And I hope my readers will too. Feel free to stop by and share your thoughts on the Good News Club and the separation of church and state.
Did you enjoy this article and want to see more like it, while at the same time support the SecularVoices Podcast, Young Skeptics, and the activism of the SecularVoices staff? Then please consider becoming a Patreon patron today!
Click here to find out how you can help and what great rewards you'll get in return!
---