Unlike MythCon a couple weeks ago which was shrouded in controversy for good reason, the Pennsylvania State Atheist/Humanist Conference is not only focused on good works and positivity, but it will include good works as well, culminating in an Atheists Fight Hunger event on Sunday. This will be the second time that PAStAHCon includes this service project — the first time being in 2015. I attended that conference as well and took part in the project.
Aside from the Atheists Fight Hunger event, the conference will include humanism-related presentations by Alix Jules and others, as well as activism-focused talks featuring David Silverman and more.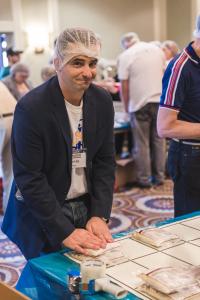 Integrating service projects into atheist conferences is not only helpful to the community, but it's beneficial for the atheist movement as well. When PAStAHCon did this back in 2015, they raised over $7,500, much of it on the spot from actual volunteers working the event, and as a result, fed over 30,000 people. So far, organizers have raised over $6,000 and are hoping to surpass the mark they set in 2015.
We're all well aware that atheists are one of the most distrusted and despised demographics in American society. But if we can take part in very public service projects like this in our communities, especially when a good number of us are together for a conference, we can work to change perceptions and create understanding.
With that said, the PAStAHCon organizers, as well as the beneficiaries of this project and the atheist community, need your help. The larger of an impact we can make, the more benefits we all can glean from this effort. We live in a world where perception is reality, so in order to effectively change those perceptions, we need to show the public our reality. Please consider donating here to Atheists Fight Hunger, and let's make this year's effort even more successful than the first.