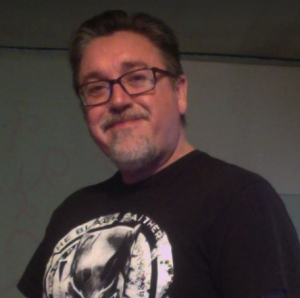 Pat Green is a former pastor who walked away from his well-paying career and everything that came with it — money, friends, social circles, acceptance, structure — choosing honesty over a buck, and began his secular life around the same time his son came out as transgender. Since then, Pat has struggled to make ends meet. He works sales jobs and writes a Patheos column entitled TransParent Expedition while supporting his son and fiancé who cannot work due to disability.
And now, Pat has been told to take 6 weeks off work to break from supporting others and focus on self-care. He's found himself struggling with his own mental health and is getting treatment. As a result, he's received an eviction notice after falling behind on his rent and will miss 6 weeks of income from his job. Without help, Pat, his son, and his fiancé may soon be without a home.
Pat Green is an inspiration to many people, including myself. He has supported other church leaders who have left the church and come out as atheists. He's been a guide and mentor for parents of transgender kids who are trying to navigate the ins and outs of raising trans children. And now he needs the help of the secular community.
Today, I donated to a GoFundMe campaign set up for him by another former pastor, Ryan Bell. I urge you to do the same. As atheists or secularists, we don't have the luxury of a collection basket or bake sale or pancake breakfast to raise money for our fellow atheists in need. Instead, we have to get more creative when those in our community are in crisis.
Please consider donating to Pat's fund here: https://www.gofundme.com/support-a-former-pastor-in-crisis. His family thanks you. He thanks you, and I thank you. We can do good without a god. Let's prove it.
---
SecularVoices readers: I hope you enjoyed this piece and continue to enjoy the SecularVoices column! To support our work (and keep the coffee flowing), please consider springing for a cup o' joe through the button below. And if you do, make sure you put your Twitter ID in the comments so we can follow you and send you a "thank you."
(I've discontinued the Patreon page for now. I think the coffee link is more appropriate and doesn't force readers to commit to a recurring donation.)