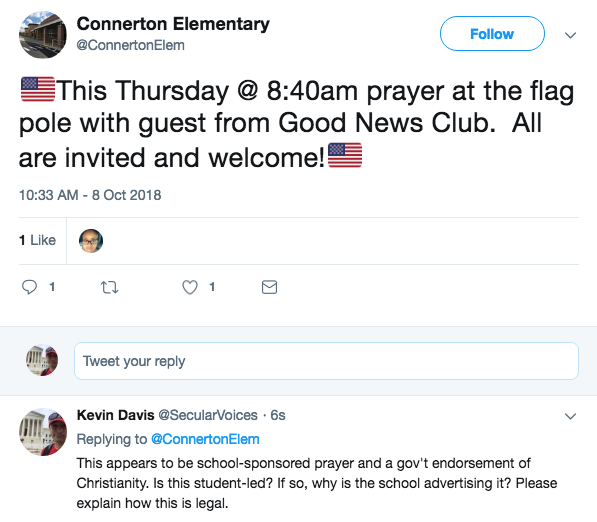 Back in October, I reported on social media activity of Connerton Elementary School, a public school in Land O' Lakes, Florida, who tweeted an invitation for students to join the Good News Club at their flagpole for a prayer before school. After replying to their tweet asking how this could possibly be legal, they deleted the tweet and then reposted it so my reply would be gone. They also blocked me (shocker). Well, last month, the school's principal finally (allegedly) broke a law that people actually care about. He was arrested for stealing $900 from a mentally disabled student. Oh, the irony.
On November 8th, Principal Edward John Abernathy was arrested and charged with skimming $900 from a sum of $2,100 that was brought to school by a young male student with mental disabilities. According to the police report, the student's teacher discovered the money was taken from the child's parents and brought to class. Teachers then delivered the cash to school administration for safekeeping, where it was counted and hidden in the principal's office — inside a speaker on a shelf 6 feet high (where only he knew about it). When the student's parents came to retrieve the money, they were handed $1,200.
After police interviewed multiple people at the school, as well as the student and his parents, they arrested Abernathy since he was the only person who knew where the money was hidden and was very likely the only person who could have pocketed the missing $900. At one point, the principal actually tried to blame the theft on students, despite the money being hidden away out of sight on a shelf much higher than an elementary-aged kid could reach.
Abernathy has been placed on paid administrative leave until the case reaches its conclusion. I'll be tracking it to see how it's decided in the courts. Will a suspected thief be returning to lead a Christianity-promoting public school, or will he be paying for his sins this time instead of running away from scrutiny?
---
SecularVoices readers: I hope you enjoyed this piece and continue to enjoy the SecularVoices column! To support our work (and keep the coffee flowing), please consider springing for a cup o' joe through the button below. And if you do, make sure you put your Twitter ID in the comments so we can follow you and send you a "thank you."
(I've discontinued the Patreon page for now. I think the coffee link is more appropriate and doesn't force readers to commit to a recurring donation.)