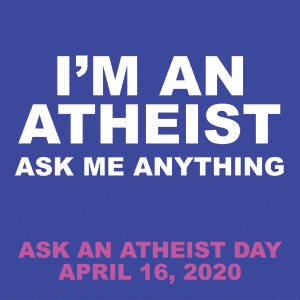 Here are two more examples from the Ask an Atheist event that we held on our Facebook page –https://www.facebook.com/AtheistAllianceInternational/
Giuseppe Sasso: DO YOU BELIEVE IN ANY KIND OF LIFE AFTER DEATH?
I have two things to say about your question, Guiseppe Sasso.

Firstly, it really doesn't matter what I believe or what anyone believes. Belief is not the truth bearer.
Many former beliefs have turned out to have been false.
Beliefs like: the sun goes round the Earth, a heavy object will fall faster than a lighter object of the same size and shape, and iron ships will sink were once believed by the entire population of the planet.
We now know they are not true.
Humans have invented about 4000 religions so far and almost all of them have been discarded as false beliefs.
Secondly, we know what happens at death. The metabolism ceases and the body goes cold. I have witnessed this.
Subsequently, to avoid public decay, most societies bury or burn the corpse.
Either way, the atoms that made up that individual are recycled into new compounds.

The idea that some 'spirit' or 'soul' lives on in some 'afterlife' is entirely without foundation.
I wrote about that here https://www.patheos.com/blogs/secularworldbyaai/2020/03/the-soul/
Thank you for your question.
Jivan Lal: WILL YOU BE ABLE TO EXPLAIN NATURAL PHENOMENON WITH SCIENTIFIC METHOD. SOME OF THE PHENOMENON ARE YET TO BE EXPLAINED BY SCIENTISTS. THIEST CALL SUCH PHENOMENON AS MIRACLE OR ACT OF GOD.
Will we be able to explain everything? Maybe not, Jivan Lal, but scientific method is the best and only way of reliably making discoveries. Science has eradicated smallpox, landed men on the moon and provided us with internet connected computers.
No other method of investigation has achieved anything at all.
Yes, you are correct. Not all phenomena are yet explained by scientists. True. Scientists honestly and honourably admit this. We leave making claims to have knowledge in the absence of evidence to the theists.
Everything we have successfully explained was a result of scientific investigation, even if the discoverers didn't know they were using scientific method at the time.
That is not to say that all mysteries can be solved, we will have to wait and see…

Thank you for your question.