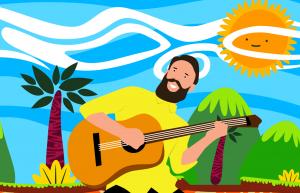 Do you have a talent? Are you a bit of an extrovert? Do you like karaoke? Ever wanted to have a go at stand up comedy? Can you juggle? Play an instrument? Does your dog do tricks? Are you good at reading poetry out loud? Got a band? Write songs?

Lockdown has been something of a bummer for performers, hasn't it…
Not now though!

Atheist Alliance International is about to launch a live-streamed, global, mini-telethon show!

The format will include an appeal for donations for a worthy cause sandwiched by entertainment, just like Live Aid did (and all the other telethons that have taken place since).

We will promote the show via all our media: our fortnightly newsletter to the tens of thousands of supporters on our database, our social media platforms which have hundreds of thousands of likes, this Patheos blog and our new audio podcast hosted by Lala Dagach see here: https://www.youtube.com/channel/UC1ccddpZvfT12dYYZ5_wD-g.
We have a great intro recorded already!
There will be an opening slot in which the presenters will welcome the audience and invite them to 'Guess the Guest' – clues will be dribbled out in the early part of the show and viewers will be able to type into the comment bar who they think the celebrity might be. The winners will be invited on screen to chat with the guest later in the show.
Next will be a presentation of the appeal of the week – slides and/or video will be shown about the cause we are featuring and the link to the GoFundMe will be screened. The sort of cases we support include helping imprisoned atheists gain their freedom and bringing governments to account for disregarding their secular constitutions…

Then there will be 'Showtime!' This is where you will get to perform your talent in front of our global audience. Occasionally, we will do 'Showcase!' where original material will be featured. Performers will have an opportunity to go out live or can submit a short video of their act.
Followed by 'Chat with the Celeb!'

Periodically we will visit the GoFundMe totaliser to show the donations coming in…
We are scheduling the pilot show for Sunday 16th August and, if it's a success, we will go live every Sunday thereafter. Let's MAKE it a success!
We are looking to screen YOUR talent… Are you up for it?
Contact me here: secularworld@atheistalliance.org