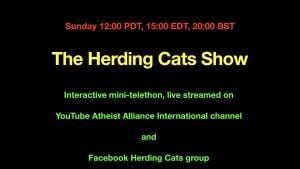 Yes! You've heard of Live Aid? This is Livestream Aid!
We have professional performers giving their talents for free in the cause of atheists at risk of harm.
Will the tech work? Will it all go belly up?
Join us at https://www.facebook.com/events/640517639912414/
or https://www.youtube.com/channel/UCqyZa-PAPMzTU21xufNpf_g?view_as=subscriber
You will be able to join in with the competitions and might win an invitation to meet the mystery guest on screen!
See you then?