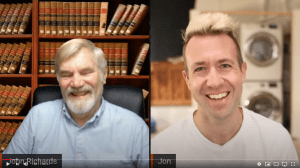 Some of you may not be aware that AAI has a YouTube channel called, unsurprisingly, Atheist Alliance International. https://www.youtube.com/channel/UCqyZa-PAPMzTU21xufNpf_g?
I've been doing two sorts of videos there – short interviews and hour long shows.
The interviews, which have a target length of ten minutes but sometimes overrun, are with interesting atheists from all parts of the world. Click on the image above for a short montage.
Interviewees include leaders of our affiliated organisations, our Advisory Council Members (link below), refugees, asylum seekers, our own Directors and staff.
The hour long shows feature guests who are well-known in their field. They take various forms: sometimes a chat, sometimes a debate and other times an expert presentation.
Recently we have had:
Professor AC Grayling discussing my worldview,
Jon Steingard, former frontman of Christian rock band Hawk Nelson, on losing his faith,
Jonathan McClatchie debating 'This House Believes There is a God' and
Chris Atlee debunking the Authenticity of the Bible.
We also did a pilot telethon show – a mix of entertainment and appeal, called Herding Cats. This proved that it is possible to produce shows with contributors in many locations. From what we learned with that exercise, we have decided to launch two styles of live-streamed interactive online events: weekly Global Atheist News and quarterly telethons – Live-stream Aid.
Watch this space!
https://www.atheistalliance.org/announcements/introducing-our-advisory-council/