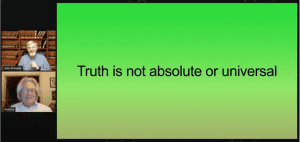 AC Grayling is such a nice fellow. See him straighten me out on matters like truth and many other concepts like 'proof', 'argument' and 'evidence'.
It was a real privilege to have access to his brain for an hour last night!
Just click on the image to watch the show for free.
Next week my guest is Jon Steingard, former lead singer of Canadian Christian Rock band Hawk Nelson, who has become an atheist! That should be an interesting conversation.
You can join us and ask questions when we live stream at 20:00 BST on Wednesdays on https://www.youtube.com/channel/UCqyZa-PAPMzTU21xufNpf_g?
or watch them as podcasts on the Atheist Alliance International YouTube channel archive (same link).
Enjoy!