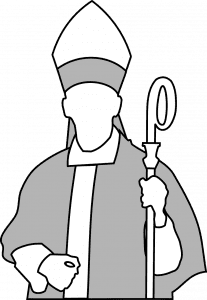 In my opinion, Bishops shouldn't have any special rights.
What has got my goat is the Church of England Bishops have jointly written to the Prime Minister expressing their displeasure with the UK government's announced intention to break International Law.
Now, let's get this straight. I'm on their side over this issue. I share their displeasure. The UK government's intended action is illegal and I do not condone it.
The ruling Tories have entered into a contract with the EU, the 'withdrawal agreement', and they should stick to it. Personally, I don't agree with withdrawing from the EU, but planning to break the contract only adds to our woes by ruining the country's reputation as a trustworthy trading partner in the eyes of all the other nations of the world. It's utterly stupid.
But, today, I'm steamed up about the Bishops' easy access to the PM and the attention that the media has given them.
We have a strange legacy in this country. We are not, constitutionally, a secular state. We have an 'established church', the Church of England or Anglican church, going back to the days of King Henry VIII. The reigning monarch is our 'pope' and 22 Bishops, selected in some mysterious process by the church and the PM, have seats in the upper house of parliament – the House of Lords. We don't even have a written constitution; this is enshrined in historic custom and practice.
In actuality though, the UK is, to varying degrees, fairly secular. I say 'to varying degrees' because it changes over time and in different parts of the country. Different faiths are often making takeover bids for our allegiance and attempting to grab authority. Some even indoctrinate children in illegal schools.
Nevertheless, the current trend is towards non-belief. A June 2019 survey revealed that 52% of the country identifies as not having any religion, and only 1% of those in the 18 to 24 age group call themselves C of E. Anglican churches are closed, closing or only attended by a few very elderly members. https://www.theguardian.com/world/2019/jul/11/uk-secularism-on-rise-as-more-than-half-say-they-have-no-religion
So, why do the Bishops have the PM's ear? Who do they speak for?

And why don't I get an opportunity to express my opinion about national policy to those in power as easily as they do?
You won't be surprised to hear, given my nom de plume, that I want full separation of religion and state.
Image by Needpix