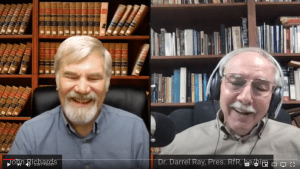 I very much enjoyed chatting with Darrel who, as well as being a lovely fellow, set up the Recovering from Religion foundation that does sterling work helping sufferers recover from religious abuse.
Darrel is a psychologist by profession, which equips him for leading an organisation that deals with victims of an upbringing in fundamentalist households or theocracies of whatever faith.
Under his leadership, RfR has grown into a global organisation with hundreds of volunteers who are trained to deliver socratic counselling that enables the personal discovery of enlightenment.
Our chat was wide ranging, covering indoctrination, PTSD, imprisonment, Hutterites, the origin of morality, etc. And we had some laughs.
You can view RfR's activities and request their services on their fantastic website here https://www.recoveringfromreligion.org
Click on the pic to watch the show.