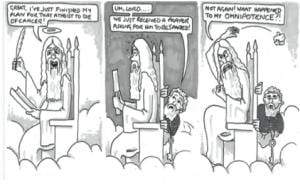 Yes, my title is a play on words! You spotted it! 'Prey' and 'pray' are homophones that cry out to be interchanged, don't they?
I was recently invited to appear on a YouTube show called The Sick Life. The hosts, Erik and Gabriel, have both survived hair-raising battles against life threatening conditions since childhood.
I was happy to share some of my own experiences and give them an a-theist's view of the interface between illness and religion.
Whilst I'm not specifically qualified in medicine myself, my background as a Science teacher (mostly Biology) and experience as vice Chairman of our Community Health Council, observer on the board of our local hospital and lay-member of our primary care group, plus being married to a nurse/occupational health advisor, all combine to give me more than the average person's insight into healthcare. And, of course, I've been a patient myself; I would likely have died twice before now if it wasn't for medical science. You could say I'm enjoying my afterlife! You can watch the whole show by clicking on this pic:
Cartoon image by Sebastian