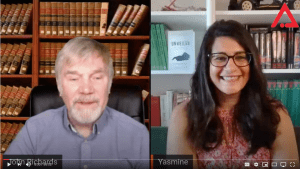 Yesterday, I had the pleasure of interviewing Yasmine Mohammed. She told me about her early life which amounted to nothing short of imprisonment.
Her mother once threatened to kill her.
Can you imagine that?
The one person above all whom she should have been able to rely on, and get comfort from, was so indoctrinated that she would kill her own child. It was a regime of fear.
Yasmine was married off to a member of Al-Qaeda who went to fight, got captured and put in jail. That, and the fact that she was located in secular Canada, not Iran or Saudi Arabia, gave her the chance to escape her horrifying circumstances.
This interview happened on the morning that the news broke about a beheading in a church in Nice, France.
President Macron did what any sensible minded person would do and strongly disapproved of that barbarism, and what did he get?
Accusations of Islamophobia from the President of Pakistan and others!
Yasmine and I will not submit to Islamic terrorism, and we would like your help…
To help save the life of a man sentenced to death for the bogus crime of blasphemy in Kano, a Sharia state in Northern Nigeria, please donate here
https://au.gofundme.com/f/save-a-nigerian-singer-on-death-row-for-blasphemy
To buy Yasmine's book go here: https://www.amazon.com/dp/1999240502/ref=cm_sw_em_r_mt_dp_VCTMFbRJSP8FM