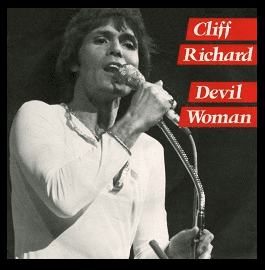 So, the singer of the worldwide hit, 'Devil Woman', thinks there is an ideology of a-theism that needs faith to subscribe to, does he?
That's wrong in at least two ways!
Take this short test to see if you can work out why it is wrong:
A) 'A-theism' is:
A nihilistic ideology

Hatred of the Christian God

Purposeless immorality

Lack of belief in god or gods

Satanism
B) 'Faith' is:
Evidence for the Christian God

Belief on steroids

A groundless assertion

Strong belief in the doctrines of a religion

Complete trust or confidence in someone without foundation

The singer made the remark in response to LBC presenter Iain Dale asking him why some people in the UK regard religious people as being "a little bit odd and weird".
Sir Cliff responded: "I know and I don't understand why because you have to have even more faith than any Christian on this planet [or] any Jew on this planet…to be an atheist.
"And yet they believe in that atheism. They believe in all sorts of things that I think myself I don't know how they can do it, because there's absolutely no proof to there being nothing."
He added: "Also, I want to question the Big Bang. What Big Bang? Who Big Bang? Who saw it? Who heard it? Where?
https://www.lbc.co.uk/radio/presenters/iain-dale/sir-cliff-richard-faith-atheist-christian/
Oh dear.
You're a great singer, Sir Cliff.
I should stick to that if I were you…