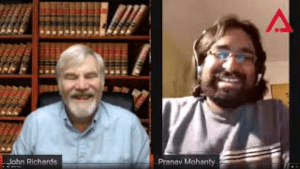 Atheist Alliance International has many talented volunteers in different parts of the world. These wonderful people work to help save endangered atheists, to campaign against religiously inspired harm, and to normalise non-belief all over the globe.
They are heroes.
A typical example is my guest in this ten-minute video interview, Pranav Mohanty. Just click on the image to view.
Pranav has an interesting story, he was born into a quite religious Hindu family and raised in Calcutta. In his teens he tried Islam and then became an a-theist. He obtained degrees in the USA culminating in a Masters in Cosmology, and now lives and works in Europe.
Pranav's language skills are much valued by our Atheist Support Network, which is headed up by Director Tina Hamilton, who is also a volunteer. Yes, we all work for nothing!
AAI is always looking for more volunteers…
If you think you could help AAI achieve its mission of a secular world please visit here: https://www.atheistalliance.org/volunteer/
Just becoming a member increases the volume of our voice! Please sign up here: https://www.atheistalliance.org/aai-membership/