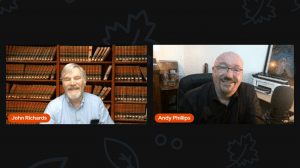 If you read yesterday's blog https://www.patheos.com/blogs/secularworldbyaai/2020/12/the-void-left-when-religion-goes/ you will know that leaving a religion can be a risky, perilous and lonely journey. Churches are communities and sanctuaries; leaving your church can mean striking out alone…
Vice President, Bill Flavell, has been working on this great idea for a safe place on our website where members of AAI could meet each other and do things together: a 'Members' Lounge'.
Andy and I had a brainstorming meeting to develop the concept. Click the image to watch… or click here https://youtu.be/hL4Tj3MlGlk
The Members' Lounge is our attempt to provide some communal spirit for those brave hearts who have embarked on an escape mission…
Let's form a new 'family'! Somewhere we can meet up, share our thoughts and develop ideas.
It launches in January 2021.
STOP PRESS
Zara Kay, one of Atheist Alliance International's Advisory Council members, has been arrested in Tanzania. Details are sketchy at the moment. We are monitoring this dangerous situation.