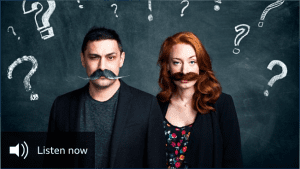 As it should happen, two nights after I wrote about the concept of biological species, the BBC rebroadcast an episode of The Curious Cases of Rutherford and Fry on that very subject!
Full disclosure, I wake up in the night and listen to World Service and that's where I heard it. Adam and Hannah do a great job of entertainingly explaining in this episode called, The Zedonk Problem, that Biology is messy – it drives a coach and horses (Equus caballus!) through Creationism and is well worth a listen – just click on the picture.
The other thing I want to flag up is my show tomorrow.
I've been organising a Skeptics in the Pub chapter in our local town for over seven years and, thanks to lockdown, we've got an online version: Skeptics in the Hub, which goes out every Wednesday at 20:00 UK time (15:00 Eastern, 11:00 Pacific). It's live streamed on our Skeptics in the Hub YouTube channel here https://www.youtube.com/channel/UCg2ahSLRr9dtLLDmdg4sS-Q?
I also put it on other platforms and, on occasions when the topic might be of particular interest to atheists, it goes on the AAI channel too: https://www.youtube.com/channel/UCqyZa-PAPMzTU21xufNpf_g?
Being a show rather than a meeting, you don't need an invitation, you just 'tune in' like in the old days of broadcasting. But, unlike back then, we have audience participation! You can comment and ask questions and, if they pass curation, they will appear onscreen to be addressed by the host (me) and guest.
Why am I telling you this?
Because tomorrow I have the return visit of 'Atheist Pastor' Chris Atlee to debunk the Answers in Genesis presenter, Brian Edwards, on Archeological Evidence for the Bible. Chris is coming back because, three weeks ago, it took us all our time to get just halfway through Brian's presentation! See part one by clicking here: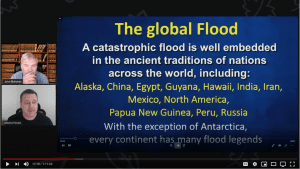 We had an echo back then but Chris has got headphones to prevent that now…
Image: BBC