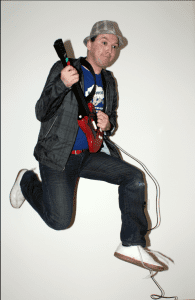 Unfortunately, Chris Atlee, my guest for tonight's scheduled debunking of Answers in Genesis Pastor Brian Edwards's presentation of Archeological Evidence for the Bible has reported being ill. His condition is not serious so we are postponing the event to next Wednesday. It's Part Two of the earlier show we did, which can be seen here: https://youtu.be/vigwVSN6H2Y
Chris is an interesting young man having nearly become a Pastor himself; he studied for two simultaneous degrees – a Bachelor of Ministry and a Bachelor of Theology, then he read the Bible and became an a-theist! See him telling me about his journey by clicking this pic.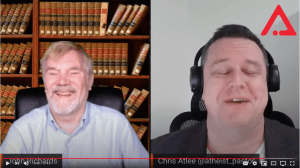 His Bible knowledge dovetails perfectly with my scientific background so we plan to work together more in 2021. Watch this space…
After terrible twenty twenty, next year can only be a better year so it needs a big launch!
And that's where you come in!
We are organising a big event for New Year's Eve and I am inviting all performers to join in.
We did a pilot event a few months ago and it worked so we are going bigger and better!
"Live Stream Aid" is a four hour long online telethon, mixing entertainment with appeals – it's a twenty first century version of Live Aid!
Professional or amateur 'showbizzers' who are starved of an audience thanks to COVID-19, please get in touch with me at secularworld@atheistalliance.org
I'm looking for four minute videos of your talent – singing, playing an instrument, juggling, comedy, doing tricks with a pet, magic, acting, whatever it is, I will consider including it in the show which will end with fireworks!
We will promote this show through all our platforms – here on Patheos, on our Facebook group which has 195,000 likes, on our Twitter, which has 38,000 subscribers, our email database, etc. It's your chance to showcase!
Image: Wikimedia Commons