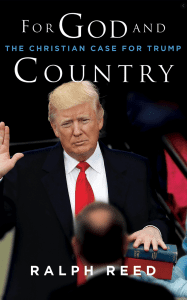 Following a rally in Washington, in which Trump told his followers to fight and said, "I know you're going to march to the Capitol", a large crowd of his supporters stormed the building and almost attained access to the chamber. A woman died from a gunshot and three others died from medical emergencies. https://edition.cnn.com/2021/01/06/politics/us-capitol-lockdown/index.html
It cannot be ignored that Trump has courted the Christians. There was the famous walk across Lafayette Square to be photographed holding a Bible in front of the parish house of St John's Church. https://www.theguardian.com/us-news/2020/jun/02/trump-washington-walk-to-the-church-photo-op
His strategy has always been to succeed by splitting the USA into pro and anti-Trump camps, and we know that the religious share that attitude of self righteous specialness or, in former President George W Bush's words, "You're either with us or against us."
Don't we also know that the religious love strong authority? Isn't this obvious from their need to worship a superior, and from their belief that there is an ultimate 'Lord' in 'heaven'?
Isn't it likely that mentality made them easy prey for Trump's tactics?
Trump saw an opportunity to manipulate these tendencies for his personal benefit.
He is gone now…
I'm in the UK. I feel very sad watching the goings on in Washington from here.
I'm not crowing, we have bizarre rulers too; Prime Minister Johnson suggested Trump should be given the Nobel Peace Prize!
Anyone who would like to examine their beliefs is welcome to join Ask an Atheist on the Atheist Alliance International Youtube channel or Facebook page on Saturday at 09:30 UK, 21:30 Sydney and all time zones in between. Historian Chris Atlee and I will do our best to answer your questions.
If you would like to submit a question in advance just email it to secularworld@atheistalliance.org