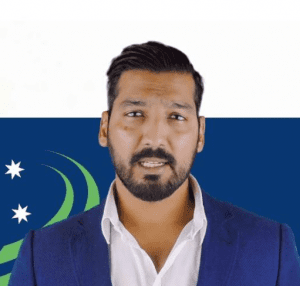 Our two new shows for 2021 are settling into a weekend routine.
The latest edition of our weekly news review, Global Atheist News, is in the bag ready to stream later today on Atheist Alliance International's YouTube channel at 21:00 UK, 16:00 EST, 12:00 PST, 07:00 Sunday in Sydney.
The other show, the interactive Ask an Atheist, would normally go out live in about an hour, but I've postponed it to suit this week's guest, Harris Sultan. It will be live streamed on Monday at 11:00 UK, 06:00 EST, 22:00 Sydney time.
I'm really pleased that Harris has agreed to join me!
He is an Australian Pakistani, who has appeared in Neighbours, Sea Patrol and Utopia. He has written a book – The Curse of God – Why I left Islam.
He is the founder of Ex Muslim Atheist, and has around 100,000 subscribers on his two YouTube channels called Sultan's House of Sin. One channel is in English and the other in Urdu.
You may remember that we try to focus Ask an Atheist on a topic; the first one, with Chris Atlee attempted to cover Morality, I had to do the second one solo on The Commandments and, this week, we are looking at Islamophobia: what is it?
If you want your question to Harris and I to be at the top of the queue, send it to secularworld@atheistalliance.org
The guest on next week's Ask an Atheist, when it returns to Saturday, will be Nigerian ex-Christian Tavian Oledapo and the week after we have American ex-Pentacostalist/ex-Baptist Matthew Sabatine.
Just go to Atheist Alliance International's Facebook page or YouTube channel at the appropriate time – it's like 'tuning in' used to be!
https://www.facebook.com/AtheistAllianceInternational/?view_public_for=316727030603
https://www.youtube.com/channel/UCqyZa-PAPMzTU21xufNpf_g