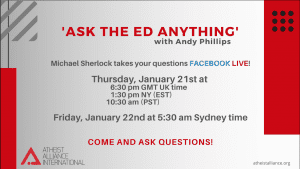 My fine podcasting colleague, Andy Phillips, is hosting a Q and A with Michael Sherlock, the current Executive Director of Atheist Alliance International, tomorrow (dawn on Friday in Australia).
You can send your pre-show questions to europe@atheistalliance.org or simply join the live streamed show at the times listed above and post them in the chat on the AAI YouTube channel. https://www.youtube.com/channel/UCqyZa-PAPMzTU21xufNpf_g
For those who like Q and A shows, Atheist Pastor, Chris Atlee, and I will be doing our second Ask an Atheist show on Saturday (full platform details to follow). We go out on a different time slot and seek an international audience with maybe some late Saturday night-owls in the USA.
Chris and I like to focus on a topic rather than throw the questioning out to 'anything' and this week the theme is The Commandments.
I will show a little video about 'goodness' and the Christian Commandments, that I made some years ago, you can preview it here: https://youtu.be/X8lIpMGXWYU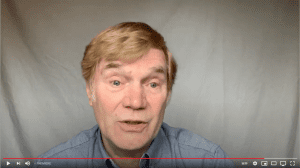 Please send your pre-show questions for this event to secularworld@atheistalliance.org