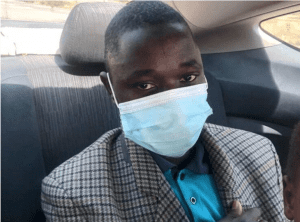 Guest blog by Bill Flavell, Vice President of Atheist Alliance International.
Today, our lawyers attended the prison in Kano where Umar Farouk has been held for over six months. Prison guards escorted Umar to a Kano court where he was handed over to our lawyers. Thirteen-year-old Umar had been found guilty of blasphemy in a Kano magistrates court on August 10 and was sentenced to 10 years imprisonment with menial labor.
AAI assembled a team of human rights lawyers who successfully appealed the sentence. It is a joy to see this young boy free at last. I would like to thank our legal team for their tireless work on behalf of Umar and Yahaya Shariff-Aminu—we appealed his death sentence too but the court remitted him back to the Shariah court for a re-trial.
We also thank the United Nations team who kindly attended today to help with transport and temporary accommodation. And we are grateful to the Kano Court and prison service for the judgment and for their cooperation to make the handover safe and straightforward.
However, Kano continues to hold Yahaya and Mubarak Bala. Mubarak has been held illegally since April 28 last year and is still detained despite a High Court judge ordering his release on bail on December 21 last year. We call upon the Kano State authorities to release Mubarak immediately.
Our legal team filed Notice of Appeal today regarding Yahaya. We will argue he cannot be tried twice for the same offence and that on quashing his conviction, he should have been discharged and acquitted. We will also argue that blasphemy laws with the Kano Shariah Penal Code are incompatible with the Federal Constitution, which protects the fundamental freedoms of religion, thought and expression.
We are also immensely grateful to the many concerned people who contributed to our legal funds for these cases. We simply could not have achieved this victory without your generous support. A huge thank-you to all of you.
Now we have another appeal ahead of us, for Yahaya, please help us with the costs for that appeal. I would love to report that Yahaya is a free man too in a few months time. Don't leave it, please do it now. Click the button below. Thank you.