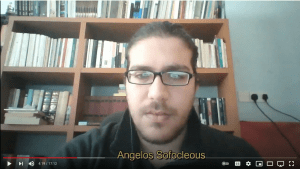 The format and process for assembling the Global Atheist News show is coming together. It will become routine in the near future, hopefully…
This week I was joined by our correspondents from Cyprus and India, with other items coming in from reporters in Canada, Honduras and a video clip from our friends at Atheist Republic, which is based in the USA.
Technical failure prevented our Vice President, Bill Flavell, from joining me onscreen with his report about Yahaya Sherif, the singer on death row for blasphemy in Kano, Nigeria.
Watch the 17 minute show to discover the outcome, just click on the pic…