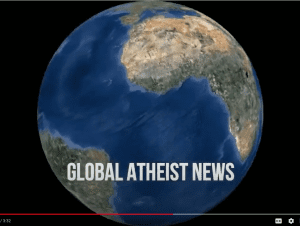 Two shows were postponed last week due to my ill health: Ask an Atheist, and Global Atheist News.
They are both launching tomorrow, Saturday 16th January 2021, on the Atheist Alliance International YouTube channel and Facebook page!
I join with Chris Atlee on the other side of the globe for Ask an Atheist at 09:00 UK, 22:00 Sydney time, when we will take your questions live online. We are aiming to address 'Morality' on this occasion. See yesterday's post for more information.
Global Atheist News goes out at 21:00 UK, 16:00 EST, 12:00 PST and 07:00 Sunday in Sidney.
This weekly news show focusses on events of interest to non-believers, which often drop off the bottom of ordinary news shows due to assumptions that 'a-theism' is a weird niche subject.
It's part of our initiative to try to normalize everyone's birthright! See my earlier article here. https://www.patheos.com/blogs/secularworldbyaai/2021/01/a-theism-our-birthright/
This is the Video Age! Expect more AAI contributors to join in shows on screen!
Watch/listen to Andy's podcasts: