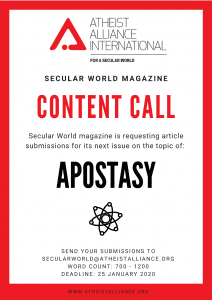 Thank You!
To all the lovely people who have wished me a swift recovery from my recent brush with kidney stones; I'm getting there, thank you.
To help get business back to normal, I'm inviting you, dear readers, to contribute to two of our initiatives: Secular World, February 2021 edition, and Global Atheist News.
Secular World is the decades-long-running quarterly journal of Atheist Alliance International. https://www.atheistalliance.org/secular-world/
It's a high quality magazine style online publication and the next issue is targeting Apostasy – that bogus 'crime' that millions live in fear of violating. See my interview with Sadia Hameed to whom, when she announced that she no longer believed in Allah, her mother said, "You can't say that, we would have to kill you!" https://youtu.be/c_F_bklWxqQ
Editor Angelos Sofocleous and I would like to hear your stories of how you have been affected by apostasy. Please submit short articles (ideally 750 words) to secularworld@atheistalliance.org
You may wish to retain your anonymity, which we will respect, of course.
The other request is for items of news that are suitable for our new weekly show, Global Atheist News https://youtu.be/T9topFes0pQ
We have reporters all over the planet, but that doesn't mean you can't also contribute! Just send me links to items you think may fit the bill: secularworld@atheistalliance.org
Thanks again.