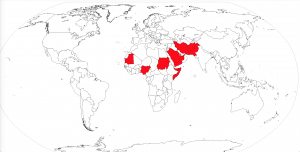 I have to keep revisiting this theme…
Why?

Some people don't like Atheist Alliance International because our name includes the word 'a-theism'.
They think we are militants who wish to impose our ideological standards on them. This has been adopted to such an extent that, in some places, a-theists are persecuted and must remain 'in the closet' for their own safety. There are seven countries in the world where coming out as an a-theist risks execution (red on map) and six more where imprisonment or lashing is likely.
Too many people have swallowed the propaganda that claims a-theists are immoral, purposeless, god-haters.
Nothing could be further from the truth.
A-theism may sound like an ideology because of its '-ism' ending but it's not. There is no doctrine, there are no values or principles attached to a-theism, it merely inherited the ending from its parent word 'theism'.
A-theism is just not believing the claims of theists that they have a god who controls everything and that we should worship it. That's all.

The only reason 'a-theist' is in the AAI name is because it is in the dictionary and it would be foolish to pretend otherwise.
In fact, there is no more reason for the word 'a-theist' than there is for a word 'a-fairy-ist' unless you are believer.
If you are a believer, you can use the label 'a-theist' to identify your targets, to divide them off from your flock, and to get them victimised.
Please remember, all innocent babies are born a-theists, and that's how we should be entitled to stay.
https://www.patheos.com/blogs/secularworldbyaai/2021/01/a-theism-our-birthright/
PS. I'm about to go live with Harris Sultan in Ask an Atheist on our YouTube and Facebook channels…
Image by Jim1138 – Own work, CC0, https://commons.wikimedia.org/w/index.php?curid=53492552