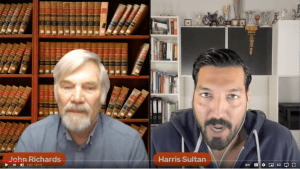 One of the great features of the internet is the podcast. You need never miss anything.
Even live streams turn into podcasts afterwards and you can continue to interact in the comments.
Yesterday's Ask an Atheist show with guest ex-Muslim Harris Sultan was watched by a large live audience and has been viewed by hundreds now.
You can see it here https://youtu.be/FpJxaOLexXA
Harris is very articulate and extremely knowledgeable about the Islamic world, I'm very pleased to say he has agreed to be a regular guest on the show.
Next week, the show returns to Saturday and my guest is British Nigerian ex-Christian Tavian Oledapo.
Tav is an old friend with an interesting story and he is garrulous! I'm going to find it hard to get a word in sideways!