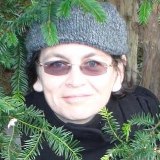 Yvonne Aburrow has been a Pagan since 1987 and a Wiccan since 1991. She has an MA in Contemporary Religions and Spiritualities from Bath Spa University and lives and works in Oxford, UK. She has written four books on the mythology and folklore of trees, birds, and animals, two anthologies of poetry, and All Acts of Love and Pleasure: inclusive Wicca. Yvonne is also the editor of the Theologies of Immanence wiki, a collaborative project for creating grass-roots Pagan theology.
Christine Hoff Kraemer is a religious studies scholar specializing in contemporary Paganism, sexuality, theology, and popular culture. In 2008, she completed her PhD in Religious and Theological Studies at Boston University with a project entitled "The Erotic Fringe: Sexual Minorities and Religion in Contemporary American Literature and Film."
Christine is an instructor in the Theology and Religious History department at Cherry Hill Seminary, where she served as department chair from 2010-2012. Her book Seeking the Mystery: An Introduction to Pagan Theologies was released in 2012 from Patheos Press. Christine's latest book, Eros and Touch from a Pagan Perspective (Routledge, 2013), integrates her experience in massage therapy and religious witchcraft into her scholarly work. She lives in the Boston, Massachusetts area.
[E-mail] [Website] [Facebook] [Google+] [Academia.edu]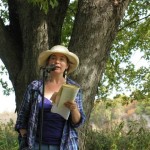 In her daily life, Sarah Sadie lives in Madison, Wisconsin and serves as one of two current Poets Laureate for the City. Until very recently she co-edited the poetry magazine Verse Wisconsin (www.versewisconsin.org) with her co-laureate Wendy Vardaman, and the two still engage in activities around the intersection of the arts and community. With a BA in Religion and an MFA in Creative Writing and Literature, she has published two chapbooks (Quiver, Red Dragonfly Press, 2009; Given These Magics, Finishing Line Press, 2010) and one full-length collection of poetry (Somewhere Piano, Mayapple Press 2012). She also publishes under the name Sadie Ducet, or maybe it's more accurate to say she curates Sadie's poetry. It all depends on Sadie's mood on a given day. The mother of two, she attends First Unitarian Society and volunteers at church, at school, and in her community. She teaches writing online at the Loft and in person at the University of Iowa in the summer. Her spirituality is mostly expressed and practiced through her pen.
---
The Dowsing for Divinity header is adapted from a photo of Smoo cave by Florian Fuchs (via Wikimedia Commons, CC-BY-SA 2.0)
The thumbnail  image is adapted from Dowse by Richard Borbridge on Flickr (CC-BY-SA 2.0)