You shocked me last night when you asked for bus fare to march on the Capitol building to show solidarity against gun violence. Two bills are going before the Minnesota legislature on topics of "standing your ground" and "constitutional carry" today. I had no idea these bills were on your radar. You always make me turn off NPR to listen to the Black Panther soundtrack.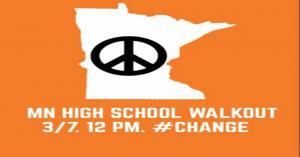 If I'm being honest,  when I got the email from your school about their expectations for students' peaceful protest, I hoped you remembered what I told you the day after the shooting in Parkland, Florida: if you ever decide to walk out of school because you're tired of feeling unsafe on your campus, if you want to protest against our leaders love of money at the cost of innocent lives, if you decide to use your voice for peace and common sense gun reform— then I'll support you 100%.
I'll support you because we are cut from a rebellious cloth. Your father challenges dangerous theology. I challenge disunity in all its forms. And today, you will challenge the status quo that says "guns don't kill people, people kill people," or that all we can do is offer our sincerest "thoughts and prayers."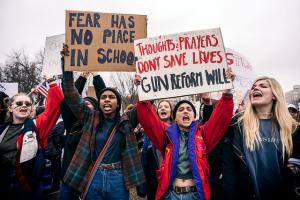 We've never bought these lies. If there's anything I hope you've learned in this pacifict, Jesus-following family is that we put away our swords and when we have the opportunity, we beat them into plowshares. We believe Jesus when he said, "those who live by the sword will die by the sword." There's truth here— violence only create more violence and death normalizes grief so we reject that we as a country cannot change this terrifying trajectory. We have thoughts and prayers, yes. But we also have hands and feet ready to be put to work, so I'm proud of you for standing up. Fear has no place in our schools.
Today, you are joining with your friends to say, "Enough is Enough".  You and hundreds of other Minnesota high schoolers are marching for both your safety and your parents' sanity so… thank you.  Truly.
 I'm tired of our new macabre drop off routine where I look you and your siblings in the eyes and say, "I love you. Call me when you feel afraid. I love you! If someone brings a gun into your school, be careful. Oh wait, did you hear me…I LOVE YOU!"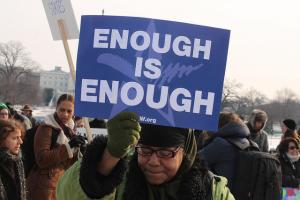 For all these reasons and more, Honey, I give you permission to call BS!
And yes, you have to use the initials. And no, you may not cuss or act a fool on your march today because here's the thing: although you are rebellious and brave, smart and strong, tenacious and fierce, you are all these things in a male brown body. Make smart choices at the march because if things get out of hand, the anxious will always look at the black males in the group as the scapegoats and we've seen how easily a taser gun can be mistaken as a firearm.
I'm sorry to have to remind you of this, but it's true. It's my job to prepare you before you step into the ring with Injustice. Injustice who is a scrappy opponent, fights dirty and will always take the kill shot. This is what is so deeply frustrating about intersectionality, my dear.  Intersectionality forces you to decide which part of yourself you're going to fight for in any given moment. For me, there are days I need to defend the goodness of my brown skin, and other days it's my gender.
So, today remember that while you are a student who wants to disarm hate, you are also a black man and black lives matter so treat yours as such.
Because, I will gladly pick you up from the police station for speaking your mind from a loving, respectful, immovable place, but I really don't want to identify your body at a hospital. So, go and march, chant and listen, stay in a group and leave when you feel unsafe.
Walkout of your high school and make your mark on the world, then please come home to tell me all about it over popcorn and root beer.
Even though you may be overwhelmed by the unfairness of it all, don't be discouraged. Stand up and push back against systems designed to dehumanize. It is the only way to restore dignity to all people, in all bodies, of all genders, and all orientations.  
A few other things I need to make sure you know.
People before politics:
The system is broken and because of it we are a broken-hearted country.  But the same can be said of every politician who is being called to task for their lack of action here. They are people caught in a broken system. They are susceptible to greed and the lining of their pockets have soften the blows of appropriate grief.  Have pity and have mercy. Do not let yourself hate them. Watch your tone when you chant, check your thoughts as they speak, and steer the conversation to action not accusations. Today on your march, be kind, be respectful, be smart. Be a peacemaker, not a peacekeeper.
Be prepared, know your rights:
You have a right to peacefully protest. You have a right to leave your school if you feel unsafe. You have the right to get your school work when you come back to class. You have the right to ask those in power  "am I next?" and expect a reasonable answer from them. They hold offices because of voters like your dad and I. So, go in with the confidence that you are not doing anything wrong and if you are pressed, tell them what Dr. Martin Luther King said, ""Every man of humane convictions must decide on the protest that best suits his convictions, but we must all protest."
Be subversively joyful:
I once heard an Iranian-American Muslim comedian, named Negin Farsad coin her life's philosophy as "being aggressively delightful". I love this. Look, you're speaking truth to power and making a difference and all that. But don't get so stuck in the hard and heartbreaking of this mission that you lose your sense of wonder and joy.  As you walk, be funny. Strike up interesting conversations. Re-cap everything you loved about Black Panther. Play your favorite music as loud as your phone's speaker will let you. Go out for pizza afterwards and enjoy this time with like-minded friends. Community will change the world and resistances sometimes sounds like laughter.
Also, make sure you take your coat and carry cash. Put my number on speed dial and if you need anything, anything at all my love, I'll be there.
Now, here are your boxing gloves… it's time for you to step into the ring.
Injustice is waiting and mama says knock 'em out.