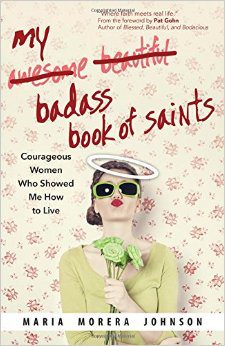 With this post, Sick Pilgrim is joining the conversation on My Badass Book of Saints for the Patheos Book Club.
I just finished writing a story about "Green Nuns" and every sister I interviewed made me want to go out and get a composting toilet.
These women were inspiring. They were brilliant. They were strong. They saw the writing on the wall years ago about the looming ecological crisis—and the Church's vocational crisis—and instead of slipping quietly into obscurity they reinvigorated their orders according to an historic Catholic spirituality that is attentive to creation. Their work isn't a ploy for contemporary relevance and increased vocations; it's a demonstration of the enduring relevance of the Church in the world.
Laudato Si, Pope Francis's call to care for the earth, affirmed them in their work. Some of them wept with relief that the institutional church was again speaking their language. But mostly they met Francis's encyclical with little fanfare and went about their business. That's what sisters do. They get it done.
So many of us, Catholics included, see the Catholic Church as a monolithic structure topped by an old man, when it's really the rogues' gallery of all of us doing what we can, when we can, where we can, powered by the holy ghost. I think this is what well-meaning people mean when they say women have our "own work" in the Church and that without it, the Church would die. They're not referring to ladies who arrange the flowers on the altar (except for when they are). They're telling us that there's a lot of truly important, life-saving and life-giving work to be done besides being a priest. That's true enough. And yet.
Whenever the Church is criticized for being the patriarchy it really and truly is (and can we please just admit that we are a patriarchy, at least according to the dictionary definition of the word?) all we can do is sputter about Teresa of Avila, Joan of Arc, and of course, Mary and her essential "yes" to God.
In reality, I don't think about priestly ordination all that much—maybe because I've been Catholic long enough that I don't see priests as particularly powerful, and I'm contemplative enough that the idea of even volunteering at my parish makes me shudder. But in theory, it offends me that women can't be priests, as it does so many of my peers. Maybe this is why there's a healthy subgenre of Catholic apologetics devoted to convincing us of our power and glory. I love the lady saints, but to answer legitimate questions about ordination by handing out hagiographies has always seemed to me like a redirection or some sort of consolation prize. I can struggle with the teaching of the Church, but equivocation is tiresome.
This is the context in which I (with some exhaustion) received My Badass Book of Saints, Maria Morera Johnson's new compendium of powerful women in Catholic history. But I was genuinely relieved that Johnson hauls some new names into the spotlight along with the old favorites. She knows the Church is so much more than Joan of Arc, badass as she is. The Church is also Blandina Segal, who tried to turn the heart of Billy the Kid, and Irena Sendler, who smuggled children out of a Warsaw ghetto, and Nancy Wake, the French resistance leader known as "The White Mouse." Johnson also includes Flannery O'Connor, the favored (unofficial) patron saint of Catholic writers everywhere, and Audrey Hepburn.
There's every kind of woman and woman saint in the Church, but Johnson is attracted to the Badass. She loves that St. Margaret of Antioch is often imagined with a slain dragon at her feet. "She's one of those saints I'm drawn to, not because I know her virtues up front, but because the images of her have an emotional appeal that attracts me," she writes. "I want a saint who can slay dragons. I need that strength."
This is why I love the saints too—because they do the heavy lifting when I can barely muster a prayer. And I love the Green Nuns because they're innovative and brilliant and my priest because he's giving his life to shepherd a flock of whiners in the frozen hinterlands of Northern Michigan.
But unlike Johnson I'm more drawn to the weak and the tortured among us than the powerful. I'm inspired by the freaks and the losers who manage to do even one good thing for someone else, and thus for God, almost despite themselves, and even when they have no power at all.
If you want to read My Sickly, Quarrelsome, Bipolar Book of Saints, PM me.