Louisiana artist Brian Jocks will be contributing original illustrations to the Dark Devotional, Sick Pilgrim's weekly meditations on the Mass readings.
Sick Pilgrim ("a decidedly dark and offbeat, yet stubbornly hopeful blog founded by misfit Catholic writers") is meant to be a platform for artists. As a blog, most of the artists we've gathered are writers, and we've been excited to feature so many (with more than 60 guest posts in our first year online), each with a unique voice.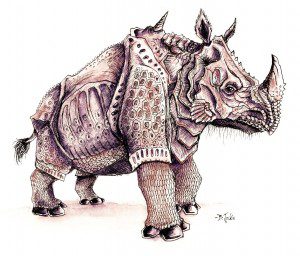 With the addition of Brian as our resident illustrator, we hope to expand to featuring visual artists as well.

Brian has a B.A. in Fine Art. He has won some Addy awards (given to creative advertisers around Lafayette, Louisiana) for a couple of animated commercials that he illustrated: 2016 Gold Addy & Best of Show (Electronic) & 2015 Silver Addy. Occasionally Brian's art makes its way online on Tumblr, Instagram, and Twitter. He is married to Joan, the girl of his dreams, and they have a baby daughter, Evangeline.
A list of descriptions Brian gave about himself:
Asthmatic, recovering selective mute.
Half-Cajun perfectionist.
Sketching constantly, but rarely finishing any pieces of art.
Dinosaur enthusiast.
Matt Lafleur is my hero (and was my confirmation sponsor). [Author's note: I DID NOT WRITE THIS.]
Check out Brian's original illustrations of our Dark Devotionals, beginning Friday, March 17, with author Maddie Foley's post.
Welcome, sick pilgrim.