This is a personal post where I talk about my plans for the future. If you're curious about those plans this is a post you might find neat.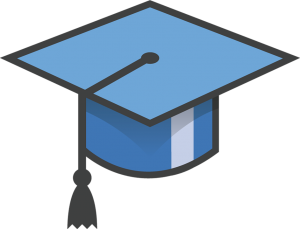 In Case You Needed A Reminder:
I'm only 22 years old. As far as I know I'm the youngest Patheos nonreligious writer, and that the next youngest is Farah from The Blameless Sky one of the newest additions to the Patheos nonreligious family. On May 12th I graduated from the University Of North Carolina At Greensboro with degrees in History (my major) and Anthropology (my minor). That same day Jessica (my girlfriend of nearly 4 years, since my 5th day of college), who I've mentioned in podcasts and from time to time in posts, had her graduation ceremony for obtaining her Master's degree in Teaching English as a Second Language (TESOL), but she has a few classes left to finish before August when she will officially obtain her degree. I spent the better part of yesterday in my new (and first adult) apartment unpacking my various items.
Jessica and I had very different ceremonies. The University Of North Carolina At Greensboro reserved a small church for my department's ceremony (in order to properly contextualize this it's necessary that I say that our original venue was a bigger one but a fire damaged it a few weeks back and we had to change our location which obviously disrupted our plans) and reserved a portion of Greensboro's coliseum for Jessica's. My graduation ceremony included a chance to recognize special individuals in our programs including up and coming history students who hadn't yet finished the program but were doing real work in the field and in the class already meanwhile Jessica's ceremony's recognition of unique students was only in its speakers as while my department had a commencement speaker Jessica's had two student speakers one from the graduate students and another from the undergraduates. Jessica's ceremony was massive and planned while mine was small and personal. Our university obviously highly values its school of education and it was neat to experience two such different ceremonies on the same day. At first I felt odd about the contrast because I don't feel like my department gets the recognition it deserves but it made me realize the autonomy my university gives history students which makes sense to me given the vast diversity of work historians do and pursue once we finish our classes.
My plans for the future are fairly nonlinear and I thought it'd be cool to share them with you!
My Immediate Plans For The Future:
I am working as a blogger for Need A Record Deal, an A&R company with an office in Raleigh, to help them create unique content that attracts readers, revolving around the music industry. I actually got this job because I showed my consistency and ability to create neat content on this blog and a few others I include in my writing resume which I send to companies and businesses looking for writers. I eagerly accepted this position and I cannot wait to get started creating compelling content for them. That job is a neat one and it's a conventional writing position that allows me to work from home but I'm also looking for more conventional positions and have sent out my resume to several locations including a few that have been interested in me enough to call me back. So that's exciting.
My plans of course include heavy elements of activism and organization: I want to organize Hispanic and atheist communities (and obviously communities that are based around the intersection of the two) in whatever areas I'm living in (currently and for the foreseeable future Greensboro, North Carolina) and I want to steadily build up a reputation as a talented activist who can build reliable communities and can help strengthen existing ones. I want to find a conventional job and use it to help me afford to stay in Greensboro and to eventually be able to save money that I can use purely for the purpose of getting better technology which will of course help me in my writing and community organizing because with better technology I can work more efficiently and hopefully eventually break into YouTube for real and build an audience there as well as the one I've been steadily building here on Patheos.
Writing Plans:
I want to build a career wherein I am a full time writer with a reputation for fascinating and readable articles. I want to do this because I love writing and because I want to have a career that enables me to move freely rather than being stuck in a single location. I want to develop my talent as a writer and communicator to the point where I can easily whip out a bunch of articles that are all high-quality pieces on various topics. I'm perpetually building a neat resume that shows my researched and opinionated voice on a variety of topics where what I write won't always be well-liked but is still always carefully considered and reasonably argued.
I'm also going to resurrect the Honduras Report where I report on news from Honduras in English rather than in Spanish. In the future if I can build a career as a writer where I have a steady income that I can live off of purely through writing I'd also like to work and write as a digital public historian who gets people interested in the religious history of both the Americas. I've got plans to write another post purely about this potential project of mine where I explain what I mean by public history and why I feel the need to use public history to critically talk about and draw attention to the religious history of the Americas. Don't worry, that post will be out soon.
In Conclusion:
I'm an ambitious writer who wants to build a reputation as a talented individual in more than a few fields and whose writing skills extend beyond one or two genres but rather run the gamut of genres. My plans are multi-faceted and they require intense drive and energy. I've showcased my intense drive and energy throughout the past few years at the expense of any possibility of having a real social life in college. Personally I think the trade-off was worth it because while I know people at my university who had an incredible college experience, my work and my platforms extend beyond my university. My connections are not limited to the classroom or academia. I've grown platforms that fascinate people in dozens of states, multiple countries, and even beyond the language barrier, from the ground-up. I've taken the first and quite possibly hardest steps to becoming a real activist and writer with the respect and reputation that comes with that. My plans are ambitious and sweeping but for now I feel like I've begun building the skills I need to make my plans actually happen.
I'm working hard to create really neat new content for you all everyday. If you've come to enjoy my work over the time I've been writing for Patheos and want to support it the easiest way to do so is to become a patreon! Check out my patreon for more information about that. I'd love to get your support, especially now that rather than studying and writing I'm going to be busy adulting and writing which is a lot more daunting in my opinion.
I'd love to hear from you in the comments section down below! Let's chat.