I've talked about In The Thick before but in the wake of the decision to rescind and repeal DACA and catastrophically impact the lives of nearly one million Americans I've made a decision to share their podcast yet again. Today's very special episode of In The Thick features the hilarious guest Cristela Alonzo who I've been an admirer of for a while now. As usual I'll start off the review of the episode with an introduction of the guest.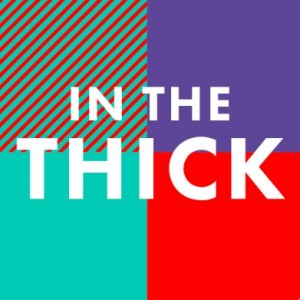 Cristela Alonzo is a hilarious comedian and actress:
Cristela is a Mexican-American comedian and actress who currently lives in Los Angeles and has a thriving social media presence where she regularly interacts which enables her to interact with her followers and fans of her comedy and acting.
Cristela Alonzo was the show-runner, writer, and lead actress of the ABC sitcom Cristela. It was a fantastic show but sadly only got one season. But even with that one season it made TV history. That being said if you've yet to see it I highly recommend it.
After that she got her own Netflix special (which I reviewed in a previous post) Lower Classy.
Cristela has an amusing podcast named To Be Continued. To listen to it click here.
Cristela is a hilarious comedian with a great heart who also fearlessly advocates for Latin Americans and Hispanics in an age where those with power often find it hard to resist the urge to antagonize Latin Americans.
How The Podcast Initially Reacts To What Went Down In Washington Today:
"I'm going to sweat the truth right now" is how Cristela helps start off the conversation. And sweat it she does. Throughout the entire podcast Cristela frequently alternates between comedic wit and necessary truths (and oftentimes a blending of the two that hints that she could have a decent future as a late-night TV show host). One of Cristela's statements was that she (and implicitly everyone else as well) should be surprised by things like DACA being repealed but she wasn't and that this contributed to a fear that she (and others like myself) feel whenever we wake up and read the news. She also talks about the insanely high standards we hold immigrants, particularly DREAMers to when it comes to the standards they are expected to live by (such as being either in school or having a job at pretty much all times).
Maria Hinojosa helps remind listeners of the massive risk each DREAMer took when they gave valuable information that could be used (at least theoretically) to deport them now that DACA is being done away with. She also points out how at the very least we're now talking about DACA whereas before so many people had no clue what it was.
Julio Ricardo Varela's first major addition to the conversation was the fact that (as I pointed out myself) it wasn't Trump who made this horrific announcement but Attorney General Jefferson Sessions.
Some Solid Points By Each Speaker:
Varela points out that DACA isn't amnesty nor should it be treated like it is. It's refreshing to hear someone aggressively tackle this right-wing myth that deserves to be taken out and never repeated again. DACA is not amnesty and if you believe it is you need to actually research what amnesty is and what DACA is.
Alonzo points out the idiocy in blaming others for your own lack of employment. She does so by stating the obvious, and makes numerous statements that could easily become soundbites for savvy political commentators later on such as: "If someone like my mom that can't speak English can get a job what's stopping you?" and "They won't do it because why? Because the job is hard and it's not worth the money that they are getting paid."
Hinojosa takes some time to talk about unpredictable allies coming to bat for DREAMers such as business owners and reminds listeners of the forced nature of DACA from the start and how it took people getting active for DACA to come into being in the first place. President Obama didn't freely give us DACA we had to earn it by rising up and showing him and the Democrats at the time that we would use our voices freely and loudly if we weren't respected.
Overall Impressions Of The Episode:
Cristela Alonzo is one of the best guests on In The Thick in a long time and that's saying something as In The Thick is the best podcast currently on air at bringing guests from diverse points of view who provide thoughtful perspectives. Her carefully considered comments and well-timed jokes enable her to bounce naturally off of her two hosts who themselves are more than capable of spontaneously political comedy. The three of them have one of the best conversations about DACA I've heard on air and I cannot wait to see what other content the three of them create, individually and together.
I loved this episode and I hope that this encourages some of my readers who've not yet visited In The Thick to go listen to them. They are hard-working content creators who deserve your ears for half an hour a week at least.