Honduras's next election is in 21 days. On November 26th of this year, Honduras will elect its next president, a new congress, and the mayors of every municipality. This election is set to be the most intense in decades since as I and others have repeatedly pointed out this'll be the first election since Honduras's latest constitution was ratified in the early 80s where a presidential candidate will be eligible for reelection. That's not the only reason to pay attention to this election, nor is the presidential race the only race that matters given that the Congress of Honduras will also be redone during the election. Today's focus isn't the presidential race but the congressional race where three candidates for Congress of various parties have been talked about a lot due to their comments concerning same-sex relationships.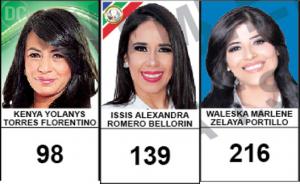 Honduras's Views Of Same-Sex Relationships:
In Honduras LGBT+ rights are nonexistent. It's not illegal to be LGBT+ but it is illegal for same-sex couples to get married or to adopt. Additionally, the police themselves (along with criminal gangs) are some of the main aggressors when it comes to committing violence against members of the LGBT+ community, and some 18 crimes a month are committed against the LGTB+ community in Honduras. Here are two articles, in English this time, about the LGBT+ community in Honduras and the threats its activists face.
El Heraldo Started Everything With An Article On Thursday:
The conversations some Hondurans are having or at least had on Thursday was started by an article from the Honduran newspaper El Heraldo which seems to have overestimated the support the LGBT+ community could count on from at least three women running for Honduras's National Congress. The article stated that these congressional aspirants supported same-sex unions, and includes quotes from each of them.
The three women in question are Kenia Torres, a woman running to become a congresswoman as part of the Christian Democrats Party, Waleska Zelaya who is part of the National Party, and Issis Romero who is part of the Patriotic Alliance. These three women were the subject of a fascinating article saying that they had respect for the sexual preferences of others and included quotes of theirs. The subtext of the article appearing directly underneath the title says that these three potential congresswomen agree with same-sex marriage. In one of the quotes, Kenia Torres who is running as a Christian Democrat (the one not particularly conservative party featured here) says that she is completely in favor of women marrying women and men marrying men. Waleska (who is part of Honduras's ruling party and most conservative mainstream party, the National Party) never actually says she supports same-sex relationships only that she is calling for people to respect others and that monogamous same-sex relationships aren't harmful. Issis Romero (a psychologist with a TV program in which she and fellow cast members tackle myths, taboos, and misinformation about sexuality entitled "Tu Sexo Sentido Con Issis Romero", and who is running as part of the conservative Patriotic Alliance Party) says that she has no reason to oppose the advancement of, recognition of, and protection of same-sex couples and wouldn't oppose it if a bill was placed before them advocating for this.
The three potential congresswomen weren't fans of the article El Heraldo published with Issis Romero saying that the article's lines were removed from reality, Waleska having to defend her stance of respecting others rights and orientations even kind of from her own party since it's (in her own words) a "party with a clear stance against same-sex marriage, due in part to Honduras's nature as a nation with Christian values", and Kenia Torres (and Issis as well) claiming that Honduras isn't prepared for marriage equality/same-sex marriage. One of the better articles when it comes to this, which both Kenia and Issis shared is this one by Proceso in which clarifications by each candidate is reported on. Kenia Torres says that she won't be promoting marriage equality, Issis claims that Honduras needs to mature before such a delicate topic can be touched upon with the tact and maturity needed, and Waleska repeats her desire that people treat each other with respect.
If you go and read El Heraldo's comment section you'll see some casual homophobia and sexism (including a comment suggesting that these women are lesbians and another saying that "Honduran women in politics are disasters") which is disappointing but to be expected. That being said: this situation while definitely less note-worthy than it seemed at a first glance is still not bad. It's a sign of progress that two of these three possible congresswomen didn't outright object to advancing the civil rights of LGBT+ couples and in fact all three sounded like they would at least consider supporting bills protecting LGBT+ couples from discrimination, even if they didn't work to grant them the right to get married or to adopt. This is better than a few years ago when Honduran congresspeople put a motion to approve of same-sex marriages and adoption and the President of the Congress (who is still the President of the Congress) flatly denied it.
If you're a Spanish speaker I recommend listening to videos and reading articles about this election. They'll definitely only get crazier from here until the election.