I contributed a chapter to Not Seeing God; Atheism In The 21st Century a book written by various authors and bloggers representing the majority of the Patheos Nonreligious blog network. It was released last month on Amazon and I got it in the mail last night. To say that I was excited was a bit of an understatement. This book was the result of a large group of people working hard to create a large number of intelligent essays against religion, analyzing the impact of religion on society, and even discussing the world after religion. It's well worth the investment and worth reading for anyone, atheist and theist alike who wants to get to understand religion, atheism, and even to a lesser extent society, in general, a bit better.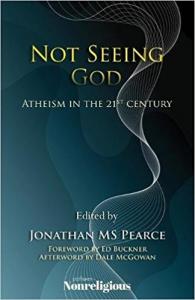 My Chapter Touches On Religion And Atheistic Invisibility In Latin America:
In case you're wondering what I contributed to this book I wrote an essay on the need for visibility in Latin America and in the United States when it comes to Hispanic nonbelievers. I wrote out why it matters that those of us who can be visible make that choice and accept that risk. I shared some popular accounts, specifically those of Miguel Trujillo and Carolina Pena two famous Hispanic nonbelievers whose stories got told online and who had to face some fallout for making the choice to be visible and honest but did so anyway. I also shared the story of the time I myself chose to be visible with my mom because while it was an awkward car-ride it eventually changed my life.
It's necessary to become visible to fight back against Christian cultural dominance in Latin America. I am one of the many who wants to see Latin-America move beyond religiously motivated sexism, homophobia, and bigotry. If those of us in Latin-America and those of us who are Hispanic/Latin-American outside of Latin-America want to see our countries move beyond this we must make a bold choice: either we as nonbelievers become visible ourselves or our theistic allies must decide to support our efforts. Secularism, irreligion, and secular humanism benefit all of us, not just those of us who are nonbelievers. I also touch on ways that atheists in Latin-America and in Latin-American communities abroad can safely talk about atheism and productively engage with believers. I'd love for you to check it out! If you have the book my chapter starts on page 155.
Some Thoughts On The Other Sections Of The Book:
Each author included in this book writes a powerful chapter. Each of these chapters could stand alone and could be a compelling essay well-worth the read that deserves to go viral. It's my hope that this book does incredibly well and becomes an inspiration for future books in much the same vein and with a similarly wide focus in the future. I'd happily write a full-length book in a similar vein with any or all of them again in the future. Some of the sections I found particularly interesting were: Not Seeing God Through Psychology And Neuroscience (According To Matthew), Not Seeing God, But Seeing Folklore, In The Bible (Foxy Folklorist: Folklore, Culture, Sex), Not Seeing God In The Military (NoGodBlog), and Not Seeing God When Raising Your Kids (Miracle Girl). But that's based on my personal interests and every other reader will find various other sections particularly interesting and if you have the book and have finished it, are finishing it, or get it after you read this I'd love for you to share with me what you think of it!