I'm currently sick and to some, it might be possible to hear that in my voice in the video I filmed last night. Despite that, I'm more than a little bit excited to say that I filmed my first ever totally in Spanish video last night. It's actually the second time I've primarily used Spanish in a video since a few years ago I did a Facebook live for The Hispanic Atheist (which hit 500 likes on Friday!) which was mostly in Spanish but the entire purpose of my video last night was to showcase that I can speak in Spanish and want to create bilingual content. One of the things that separate me from other more famous and more focuses activists is not only the fact that I am bilingual (as in I am capable of speaking & writing in two languages, albeit imperfectly) but also my awareness of both historical and contemporary events in Latin-America touching on religion and I want to use that knowledge to have serious and educational discussions online so I'm committing myself to creating videos in both English & in Spanish.
Actualmente estoy enfermo y para algunos, podría ser posible escuchar eso en mi voz en el video que filmé anoche. A pesar de eso, estoy emocionado al decir que filmé mi primer video totalmente en español anoche. En realidad, es la segunda vez que uso principalmente el español en un video desde hace unos años que hice un Facebook en vivo para The Hispanic Atheist (¡que llegó a 500 le gustas el viernes!) que fue en su mayoría en español, pero el propósito de mi video de anoche fue mostrar que puedo hablar en español y quiero crear contenido bilingüe. Una de las cosas que me separan de otros activistas más famosos y más enfocados es no sólo el hecho de que soy bilingüe (como soy capaz de hablar y escribir en dos idiomas, aunque imperfectamente) sino también mi conciencia de los eventos históricos y contemporáneos en Latinoamérica tocando la religión y quiero usar ese conocimiento para tener discusiones serias y educativas en línea, así que me comprometo a crear videos en inglés y en español.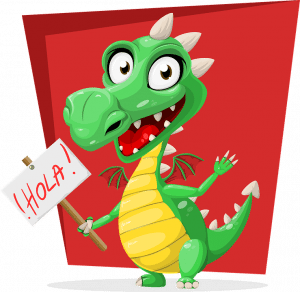 ¿Por Qué Estoy Creando Contenido bilingüe?/Why Am I Creating Bilingual Content?
Quiero crear contenido bilingüe por una variedad de razones con el mayor ser que quiero mejorar a la fuerza mi español y una de las claves para hacerlo es usarlo, mucho. Tengo un vocabulario sólido en español, pero me cuesta mucho entender las reglas gramaticales del español y eso perjudica mi habilidad para hablar coherentemente, especialmente cuando se trata de género y conjugación. Hay mucha gente a la que mi español suena como si fuera hablado por un hablante no nativo con un vocabulario decente pero que todavía no ha bajado las reglas, a pesar del hecho de que el español es mi primer idioma y no mi segundo. Esto es vergonzoso y frustrante, pero no voy a mejorar sin dedicar tiempo y energía para hablar regularmente sobre temas que me importan en español y en el día que lo estoy haciendo ahora la gente puede hacer este viaje de auto-mejora y creatividad conmigo en vez de ver los resultados finales.
La segunda razón por la que estoy creando contenido bilingüe es para llegar a la gente que está buscando videos sobre los temas que me preocupan en español y que no quieren escuchar las perspectivas de los angloparlantes o que no entienden el inglés y se basan en saber lo que piensan los hispanohablantes. No quiero que el atractivo de mi contenido se limite al idioma, y estoy decidido a superar ese límite utilizando el hecho de que soy bilingüe.
Entiendo que mis habilidades imperfectas para usar el español me afectan negativamente, pero me uní a YouTube para ser audaz y valiente y me he arriesgado con cada uno de mis videos, al igual que todos los realizadores de videos se arriesgan con sus videos. Hasta ahora esos riesgos han valido la pena y he hecho nuevos amigos y colaborado con muchas personas diferentes. Espero que con el tiempo mi disposición a usar el español en mis videos valga la pena y pueda colaborar con toneladas de diferentes hablantes bilingües y monolingües de español. Para mí, esto vale la pena y vale la pena experimentarlo. Hazme saber lo que piensas aquí o en el propio vídeo!
I want to create bilingual content for a variety of reasons with the biggest being that I want to forcibly improve my Spanish and one of the keys to me doing that is to use it, a lot. I have a solid vocabulary in Spanish but I have a hard time understanding the grammatical rules of Spanish and that harms my ability to speak coherently especially when it comes to gender & conjugating. There are a lot of people to whom my Spanish will sound like it is being spoken by a non-native speaker with a decent vocabulary but who hasn't gotten the rules down yet, despite the fact that Spanish is my first language not my second. This is embarrassing and frustrating but I won't improve without putting in the time and energy to regularly speak about topics that I care about in Spanish and in the day I'm doing it now people can go on this journey of self-improvement and creativity with me instead of just seeing the end results.
The second reason I'm creating bilingual content is to reach out to people who are searching for videos about the topics I care about in Spanish and either don't want to hear the perspectives of English speakers or who can't understand English and rely on knowing what Spanish speakers think. I don't want the appeal of my content to be limited to language, and I am determined to overcome that limit using the fact that I am bilingual.
I understand that my imperfect abilities to use Spanish negatively affect me, but I joined YouTube to be bold and brave and I've taken risks with every video of mine just like every video-maker takes risks with their videos. So far those risks have paid off and I've made new friends and collaborated with tons of different people. I'm hoping that in time my willingness to use Spanish in my videos pays off and I get to collaborate with tons of different bilingual and monolingual Spanish speakers. To me, this is worth doing and it's worth experimenting with. Let me know what you think either here or on the video itself!
Future Plans For SinGod & For A Few Of The Groups I Am A Leader Of/Planes Futuros Para SinGod Y Para Algunos De Los Grupos De Los Que Soy Un Líder En:
I am working on creating a bilingual list of Hispanic and Latino/Latina/Latinx secular, secular humanistic, & irreligious groups, YouTubers, and individual bloggers/activists/personalities. I have compiled a few dozen so far and will be reaching out to more before I put this list up publicly either today or tomorrow on SinGod & the Secular Latino Alliance. I want this idea to appear in multiple places and I will be dividing this list up by country and by category (as in whether someone or something that appears on this list is a YouTuber, a writer, an organization, a newspaper, etc.). I want to support others who are like me, Hispanic and/or Latin-American and freethinking and this is a neat way to do that since it enables me to serve as a bridge between the freethinking communities that are not Hispanic or Latin-American and the communities that are.
Estoy trabajando en crear una lista bilingüe de hispanos y latinos/latinos/latinos/latinos seculares, humanistas seculares, y grupos irreligiosos, YouTubers, y bloggers/activistas/personalidades individuales. He compilado unas cuantas docenas hasta ahora y me pondré en contacto con más personas antes de publicar esta lista ya sea hoy o mañana en SinGod & the Secular Latino Alliance. Quiero que esta idea aparezca en múltiples lugares y voy a dividir esta lista por país y por categoría (como si alguien o algo que aparece en esta lista es un YouTuber, un escritor, una organización, un periódico, etc.). Quiero apoyar a otras personas que son como yo, hispanas y/o latinoamericanas y de pensamiento libre y esta es una buena manera de hacerlo, ya que me permite servir como puente entre las comunidades de pensamiento libre que no son hispanas o latinoamericanas y las comunidades que sí lo son.